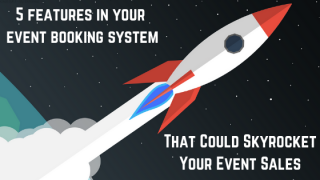 Research suggests that for 48% of events, ticket sales compose 60 to 100% of the revenue!
Therefore, the importance of providing a hassle-free and seamless ticket booking experience cannot be reinforced enough.
Ticket windows for booking events are passé. Nowadays, people are logging online and carrying out a booking for various events – be it a professional conference or a music concert, online is the way to go for them.
For event organizers, it is important to ensure that the online booking system is convenient, provides all the event and venue details with pictures and videos, and offers the best user experience. Today, while event organizers put in a lot of effort and energy in creating a seamless online booking experience, not all the booking systems do the trick. Not if they do not have the required features that make the eventgoers make a beeline for booking.
Here are some of the top five features for event booking systems that have the potential to skyrocket your event sales.