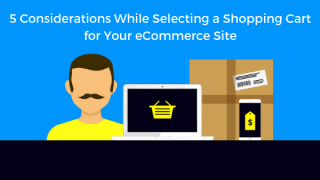 There are several eCommerce platforms that sell multiple products. Some of these are well-known (Amazon anyone?), while others are obscure. Irrespective of the size and scale of these sites, customers or online shoppers have one primary expectation. And that is to have an effortless checkout process. This is something that matters even more than the products present on the site. 
Here are some statistics that explain it all:
Abandonment can cost e-marketers about 2 to 4 Trillion per year.
27% of carts were dropped because the checkout process was too complicated or because the site was slow.
65% cart abandonment trend leaves a 97.9% gap in conversions.
You certainly don't want to fall in any of these categories. Let's look at the top five considerations that you will need while selecting a shopping cart for your eCommerce website.