People Suggest 1.4.3 is here with EasySocial support and much more ! Since People suggest is new to the EasySocial community, we will give you a quick introduction of what its all about. A Social Network be it a major player like facebook or a specific niche network, thrives on the relations the people involved in it establish with each other. In fact it wouldn't be a 'Network' at all if there were no 'connections' or 'relations' between its members.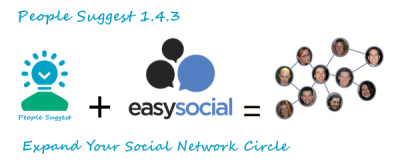 Social Networks are more or less completely dependent on their members to create and share content and keep it alive. The users in the network contribute content because they want to share it with their connections. In fact since Social networks are so peer driven, the more connections a user has, the less likely he or she is to leave your network.
The more the connections, the more healthy your Social Network is likely to be.
People suggest is just the ingredient you need to make this happen. A intuitive suggestion is all it takes to get your members to start connecting to each other. They key is in making a suggestion that's accurate.
People Suggest comes enriched with a multitude of connection suggestion algorithms based on the user's profile information, the friends they have, their mutual friends, the people they have invited, actual recommendations & much more which are used in combination or individually as per your preference to give uncannily useful suggestions !
People Suggest also has integrations for Community Builder and JomSocial with the same awesome set of features !
Additional features like Matchmaking mode & User preferences for suggestions, its the perfect tool for Dating websites too !
Read on for the complete details of EasySocial 1.43 and the EasySocial Integration !!