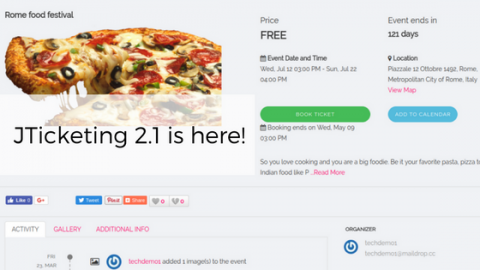 We are happy to bring you JTicketing 2.1 with mobile friendly user interface, major UI improvements, tighter integration with Shika and jLike integrated and bundled into the core extension. TJ Reports integration has brought powerful reports, the jLike integration brings a powerful blended User calendar and some great Classroom training features. This is just the tip of feature iceberg. We've managed to squeeze in quite a few things more than what we had promised in the roadmap blog !
Buy JTicketing Now!         View JTicketing Demo!
Read on to get the complete details on what this version brings. Make sure you read our release notes before you upgrade as backward compatibility breaks in this release.