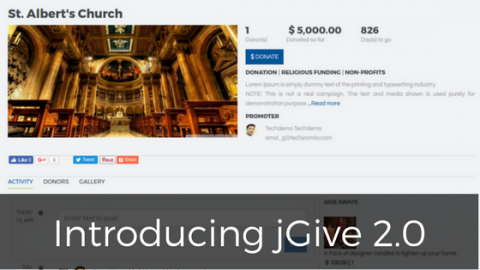 When we posted about our new design first approach for jGive nEXT back in December, 2016, we received a host of emails and comments with some excellent feedback. We thank you for all the love you have shown and bring to you the first release in the nEXT series - JGive 2.0 !
The biggest features that we introduce in this release are the revamped UX, a rich activity stream and an awesome new dashboard along with php 7.1 compatibility. One key thing to remember is that this is a 'Major' release which breaks backward compatibility. This means that you will need to rework any html overrides you have done when you plan your upgrade. Also note that as announced we will be dropping Bootstrap 2 support in this release. This also means that if you are using our partner template - JSN Fidem, you need to wait for Joomlashine to release a new version with Bootstrap 3 before you can upgrade.
Everyone is advised to read the release note carefully before upgrading to the latest version. Read on to know more regarding the features and a detailed changelog.
Buy JGive Now Know more about JGive View Demo
Get 15% off on JGive
Use Coupon CODE - JGIVE15NEXT
Validity from 12th April, 2017 to 19th April, 2017
Click on read more for the complete details.