When we posted about our new design first approach for jGive nEXT back in December, 2016, we received a host of emails and comments with some excellent feedback. We thank you for all the love you have shown and bring to you the first release in the nEXT series - JGive 2.0 !
The biggest features that we introduce in this release are the revamped UX, a rich activity stream and an awesome new dashboard along with php 7.1 compatibility. One key thing to remember is that this is a 'Major' release which breaks backward compatibility. This means that you will need to rework any html overrides you have done when you plan your upgrade. Also note that as announced we will be dropping Bootstrap 2 support in this release. This also means that if you are using our partner template - JSN Fidem, you need to wait for Joomlashine to release a new version with Bootstrap 3 before you can upgrade.
Everyone is advised to read the release note carefully before upgrading to the latest version. Read on to know more regarding the features and a detailed changelog.
Buy JGive Now Know more about JGive View Demo
Get 15% off on JGive
Use Coupon CODE - JGIVE15NEXT
Validity from 12th April, 2017 to 19th April, 2017
Click on read more for the complete details.
Rich New Activity Stream to keep your Donor and Investors updated on campaign updates !
The brand new activity stream system (coming soon to other Techjoomla products too!) creates an aggregated stream of all activities happening around the campaign. This includes posted Photos, Videos, Donations and Investments as well as a quick way for campaign owners to post updates about their campaign !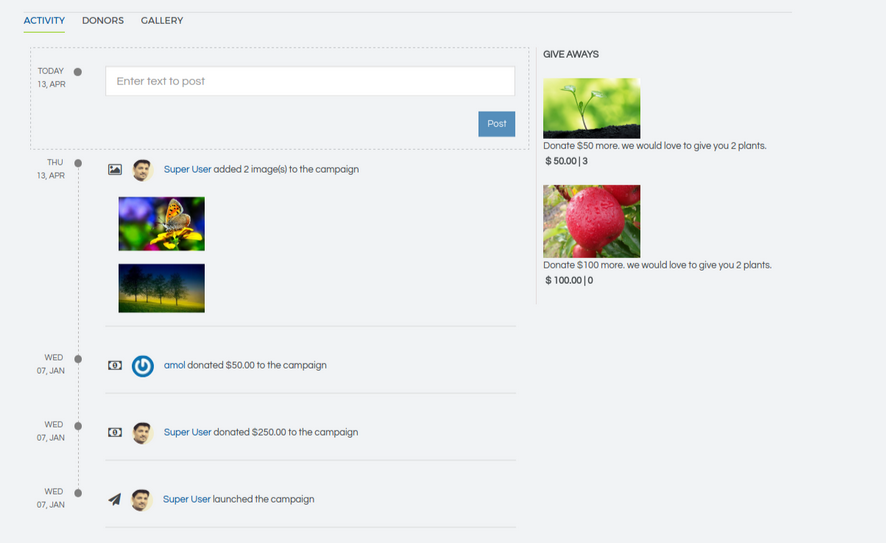 Slick new Campaigns view
Typically visitors will see this view first when they enter your site. This upgrade is sure to give them a 'wow feeling'. Compact and full of critical information about the campaigns, this transformation is aimed to make discovering campaigns easier with quick and easy searching and filtering. Of Course native as well as TJ Fields based custom fields filters are supported. A easy to reach call to action to Create a new campaign is handy as well.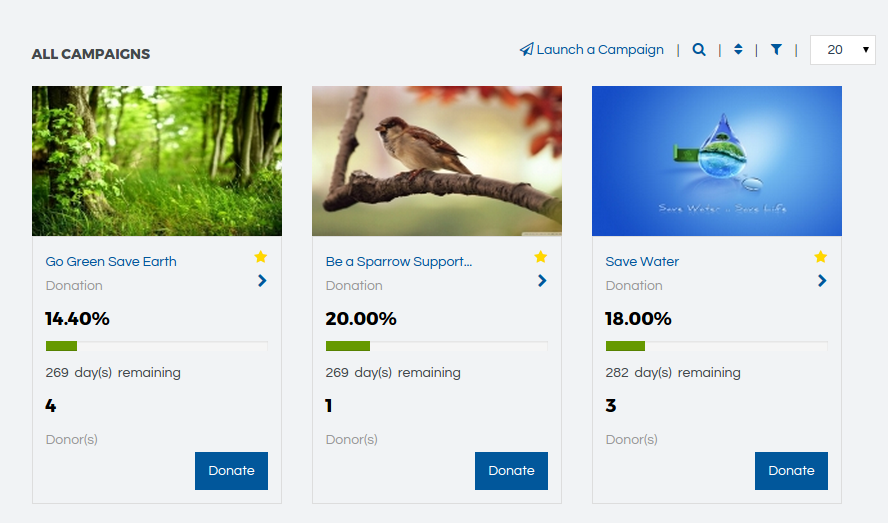 Frontend Campaign Dashboard
We introduce a brand new Campaign Dashboard view that gives the campaign owner a detailed view of how his campaigns are performing. Widgets also show your top donors as well as latest activities on your campaigns and status of payouts.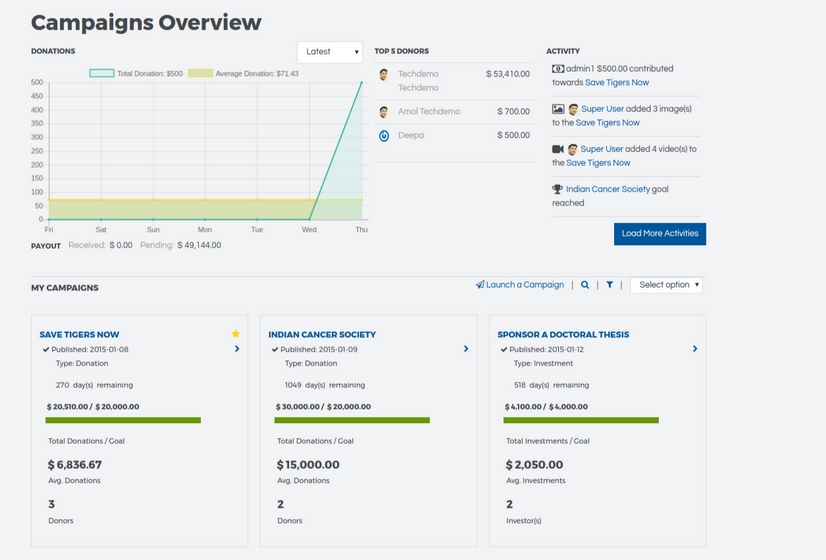 Fantastic new Campaign Page
Dazzle your contributors with a spectacular Campaign page which brings out the highlights of your campaign in the most intuitive way. The new view is much more compact and presents information more cleanly with a clear call to action for your contributors.

Donor/Contributor/Investor perspective
If you are the owner of the campaign, the page transforms automagically to give you a comprehensive campaign working area from where you can see a high level overview of the campaign , update campaign activities as well as edit your campaign information & post photos & videos.
Campaign Promoter's Perspective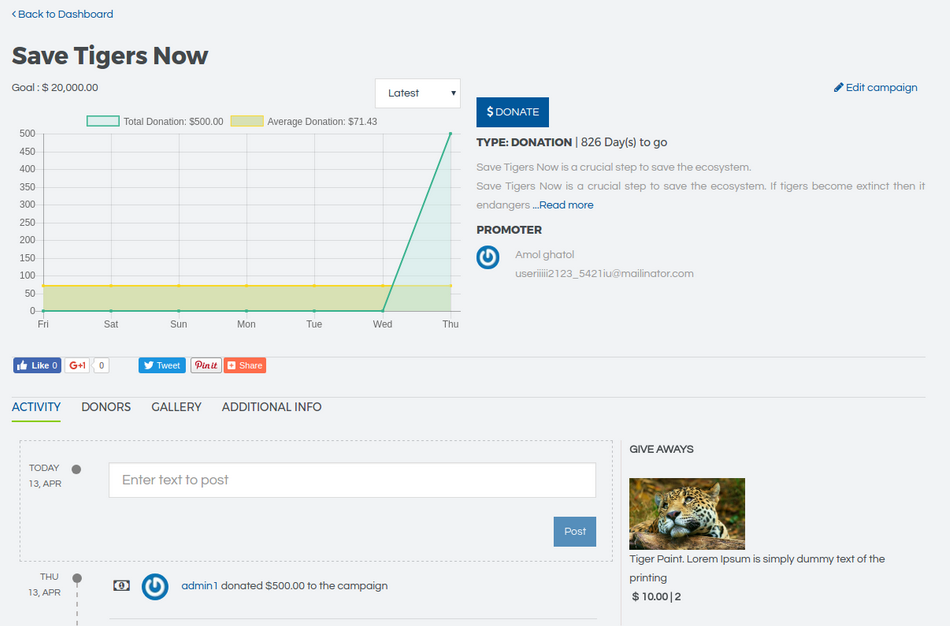 Changelog For JGive 2.0
Feature:
#89829: Campaign overview(Dashboard) for campaign promoter with activity stream and more
#92037: All campaign pin view
#93317: Campaign details view with latest UI
#93509: JGive integration with TJ-Activity-Stream.
Task
#97588: All campaigns view filter
#98707: JGive router
#98708: JGive Campaign updates migrated into activity stream
#98709: JGive integrated with Jomsocial, Easysocial, CB etc
#96557: Campaign overview provide donation graph to promoter's campaign
#89836: On campaign overview show my created campaigns in Pin view
#93329: Campaign detail view show gallery tab where we can see the images, videos and also able to filter by 'Type'