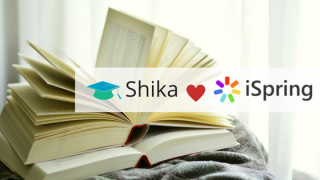 We are happy to announce that Shika now has official support for iSpring SCORM content. Shika developers and technical experts at iSpring recently conducted compatibility tests to ensure that iSpring content works well with Shika.
Authoring good quality SCORM content can be a long and exhausting process. iSpring makes this a breeze ! With iSpring's suite of authoring tools, you can turn your PowerPoint presentations into supercharged e-courses in a snap. iSpring authoring tools not only preserve animations, triggers and timings of PowerPoint presentations but also allow to enhance them with different types of interactive activities.
iSpring TalkMaster allows you to design interactive dialogue simulations to train your employees' communication skills in a safe environment. With iSpring QuizMaker, creating interactive quizzes is faster and easier than ever before, thanks to the new visual question editing mode. iSpring Cam, records "how to" tutorials and inserts them into your courses or publishes them directly to your YouTube channel.