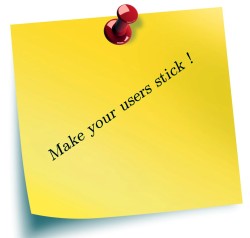 This blog is going to be mostly about the thought process behind creating the extensions we currently have & ones that are planned & how these can help your Social Networks grow & sustain. It will also talk about Social Networks in general & how you can make them more effective.
We have worked on the 'Social Network' concept before the first of them were born. It was just not called Social Networking then! Well, a lot of the pieces were there.. but still it wasn't what a Social Network is now. Launched in August 2003, MySpace was one of the forerunners. This was followed by Orkut in Jan 2004 & Facebook in February 2004. Only mentioning a few biggies here. These were the ones that brought about the Web's latest revolution. With such personalized connections, the web suddenly got viral & revolutionized almost all aspects of our life. There's a lot more you can read about the history of Social Networks on Wikipedia.
And then suddenly creating Social Networks became the most in-demand thing & everyone wanted one of their own! In our own Joomla community, a lot of players emerged making it pretty easy to get started with your own network.
Read on to know how you can make your Social Networks more effective..
There are typically two approaches people take in making their own Network :
1. Make the next Facebook.
2. Focus on specific interest groups & create a network for them.
Whichever your approach, you have to do all of the following things.
Get your target audience to sign up on your Social Network.
Make sure they stay on your social network .. make sure they STICK!
May not be the case in each case.. but eventually, monetize the site.
Techjoomla extensions are developed keeping these exact things in mind. We help your social network to succeed & to sustain. Let me take you through a different kind of tour of our extensions.
The first part is mainly marketing & telling prospective users about your Network. You get a lot of users register on your website. What should be done next?
It is very important that you help the user become one with the Social network & participate in the activities & contribute content. This is where the various features of Social Networking extensions like CB & JomSocial come into play. It is most important to prompt the user into some kind of action. This is where we come in..
Step I: Help your Users Become part of the Network
Our Extensions Network Suggest & People You May Know help your user become one & encourage him to connect with other users. This is one of the features of Facebook that makes it extremely addictive.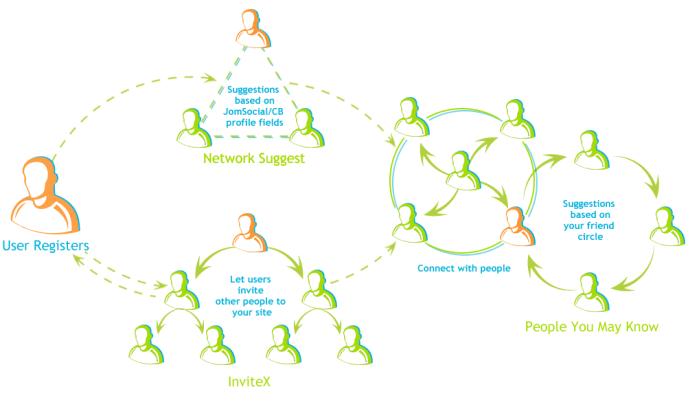 Network Suggest, when properly configured can help users find people from the same city, state or country or ones with similar interests. School websites can use it to suggest friends from the same batch or class for instance. Since the admin can make as many copies of this module as he wants & configure each to show a different kind of suggestion. Plus it has a 'Matchmaking mode' using which you can suggest matches of the opposite gender. Great for dating & matchmaking type site. Add in our free Profile Completeness module & help your users complete their profiles. Better profiles make better matches!
Using this tool you can help your users make new connections on the network. Ok, so they added some friends, what next?
With People You May Know, even a small action like adding some friends helps you suggest even more people to your users to network with. People you may know suggests people you are likely to know based on your current friends. These lead your users to make even more connections.
Now that you have tools to increase the involvement & networking activity within your site, how about getting your own users to promote the site to their friends & contacts outside your Network? Enter InviteX our Viral invitations solution for Joomla! With this tool, your users can invite their contacts from a variety of Email providers like Gmail & Hotmail & with our next version of Social Networks like Facebook as well.
This till helps you leverage your current users into getting even more users for your site & then the chain described above starts again!
Step II: Help your users stay in touch & add content to your site
Social Networking extensions already do a lot in this area by helping people share videos, photos, walls etc. Plus a wide variety of extensions & plugins add a lot of functionality in this area. We have a few that help you out in this area too!
People see other users online.. they can message them..but wished they could just start chatting. In comes JBolo! the cool Facebook or Gmail style chat client for Joomla! This is one client that can keep your user's glued to your site. Help them interact with other users using this cool extension. With upcoming features like Group chat, this promises to engage your community in a big way!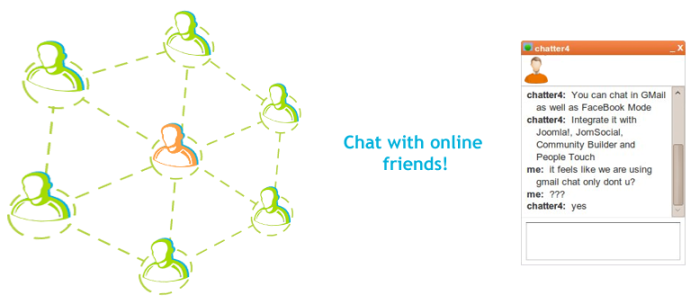 A typical problem of even the most active Social Networks is that people eventually tire of coming to the network daily. So there has to be a way to tell them about whats happening on the network. J!MailAlerts helps you do just that. With a plugin architecture, it can send updates about virtually any activity on your Joomla website. This strategy has helped networks like Facebook & Linked in making people keep coming back to the website. Whats more, these alerts are relevant & the user can choose what he wants.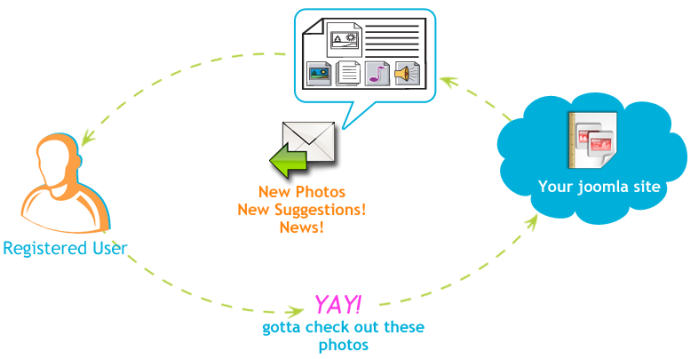 Consider this case
A user who joined your site & was very active for the first few weeks. Then his enthusiasm sagged & he stopped coming. The Email Alerts system on your site sent him weekly / monthly updates about the latest updates on the network, people who he might know, things his friends were doing on the network etc. This pushed the user into coming back & engaging in the network activities again. All Networks have occasional users like this. The important thing is to keep enticing them to come back to you.
Then there is sometimes the case that you add new features to your site & you need to get in touch with them. Our J!PHPlist extension leverages the power of the best open Source email solution out there, PHPlist by integrating it tightly with your Joomla/ CB/JomSocial website. Sending those newsletters becomes a breeze.
Another of our upcoming extensions J!Growl helps you add real-time notifications for just about any activity on your site. This can also help
Step III: Monetize your site
Unless its a site made for a special reason, most sites will need to monetize their community in order to sustain. This can be done with a variety of ways like special paid features, paid memberships & last but not the least by any measure, Advertising. There are lots of ways to advertise - their Google ads & such other advertisement networks, conventional banner managers that can help you do this. But we promise to outdo them all with our upcoming extension called as SocialAds. With SocialAds you can display demographically targeted relevant ads to your users. Your own users can use the SocialAds engine to post their own ads on the network.
Finally. The bottom line is, make your users Stick!
Well, that's it for now. We are committed in our resolve to help you build better Social Networks with our extensions. We are always fiddling with something new & make sure you pop in into our Labs area to see what comes next!
If you would like to get our Pack of extensions to start working for you, Head over to our Shop. If you Buy till 31st May, you can use the code MAYDAY & get 10% off!