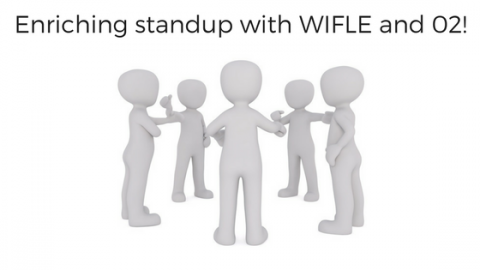 I'm sure, many of you have already attended many standups before reading this blog. If you are not familiar with standups, below are some useful links.
https://www.blossom.co/blog/3-tips-for-quick-effective-stand-up-meetings
https://en.wikipedia.org/wiki/Stand-up_meeting
http://martinfowler.com/articles/itsNotJustStandingUp.html
https://sprint.ly/blog/scrum-meeting-best-practices/
In short, a standup helps you to keep track of your team's progress on a daily basis. Stand-up is a 'self reporting' meeting. In Agile, the team members don't necessarily report to a team lead. Its main objective is to self organize a team. According to me, standup is a great opportunity to meet all your team members at the same time & get an idea about the lists of tasks an individual is doing during today's schedule & whether any assistance is needed to accomplish those tasks! The meeting should not last for more than 15 minutes for 5-6 teammates!
Alright so we're convinced with standup meetings. We conduct standups daily. Everyday we come, we meet, we discuss & we work.(How boring! I felt really boring while even adding this sentence) We need to add some spices & have some TADKA(tempering) in order to make our standup meetings really interesting. Here, I want to help you make your standup meetings really happening using some out of the box ways!