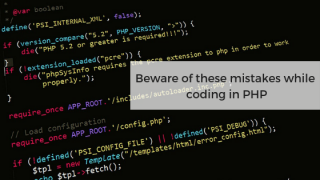 As a PHP developer, I am sure we all write some lines of code every day where we use library functions, creates new functions, Writes for, for each loop and also we use some statements and many more things that we need to do for solving a problem by PHP. Do we use the right library functions in the right place? Do we write correct loops? In my opinion, we do common mistakes while doing these things, so what are those mistakes and how to get rid of it, what will be the solutions for it? These are the common questions that arise in every PHP developer's mind while coding.  
I will be covering these common mistakes and their solutions in a series of blogs, Let's start with the first blog of this series.
Misunderstandings of isset()
As the name suggests, isset() function returns true if the item exists and returns false if the item does not exist but it returns false for null values too. This turns into a problematic behavior in some cases and becomes a common source of problems.