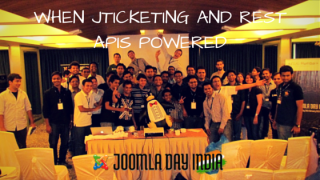 Organizing and Attending Joomla Days can be a lot of fun. If you haven't been to one yet, I would recommend you definitely book a seat on the next one happening near you! Organizing one is a lot more work ofcourse but its a ton of fun and gives you some really great experience and collaboration skills.
So all of us here at Techjoomla and Tekdi love to do both. If a Joomla event is happening in India you are sure to find us there as well as quite a few ones around the world. This blog is a Case Study of how we used the JTicketing extension as well as the Mobile apps for better managing the event.
If you are a Joomla user group and wish to use the Jticketing extension or our IOS/Android apps for your events, we would be happy to send you over free copies as part of our policy of Giving Back to Joomla.