The wait is over! We are super excited to announce the release of Shika 1.2 which brings Bootstrap 3 support, User Hierarchy awareness and a plethora of reporting enhancements with TJ reports integration. Between TJ Reports and Hierarchy awareness it is now possible for managers to view reports of a user reporting to them. What's more, the reporting now also understands the concept of ownership and allows Course creators to view reports about the courses created by them.
Please note that this is a major release and involves a migration which is however painless. Also since the layouts have been revamped to support Bootstrap 3, any overrides you have done might need some rework. On installation do not forget to click the 'Fix' buttons on both Shika and Jlike Components. Detailed instructions are given in the release notes. Make sure you read them carefully before you upgrade !!
Buy Shika Now!         View Shika Demo!
Reporting Enhancements
Shika 1.2 introduces TJ Reports as an engine to power its reports. This will now be the central reporting engine for all Techjoomla products. As a part of this transition, we have made several improvements to existing reports and also introduced new reporting features as well as brand new reports.  
New Reports
Single Course Report
The Single course report gives you a complete drill down for each enrolled user to the lesson level.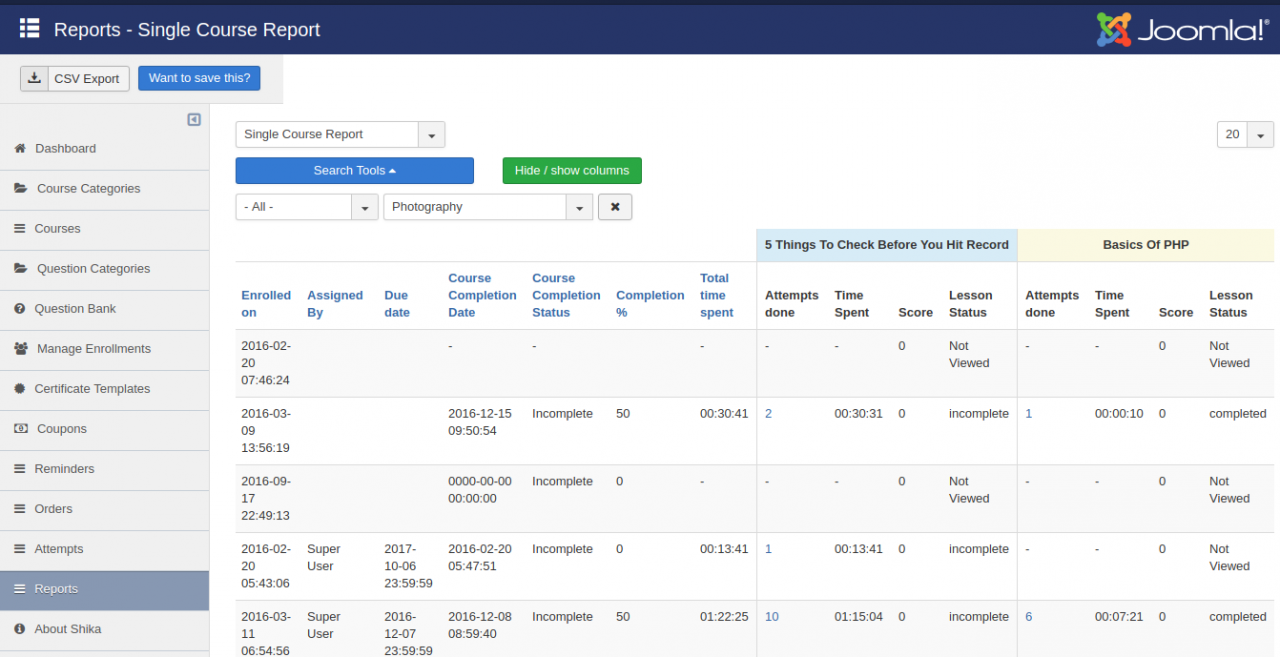 Category Report
Get a Category level overview of how many courses a category has and how many students have enrolled against those courses and how many have completed them.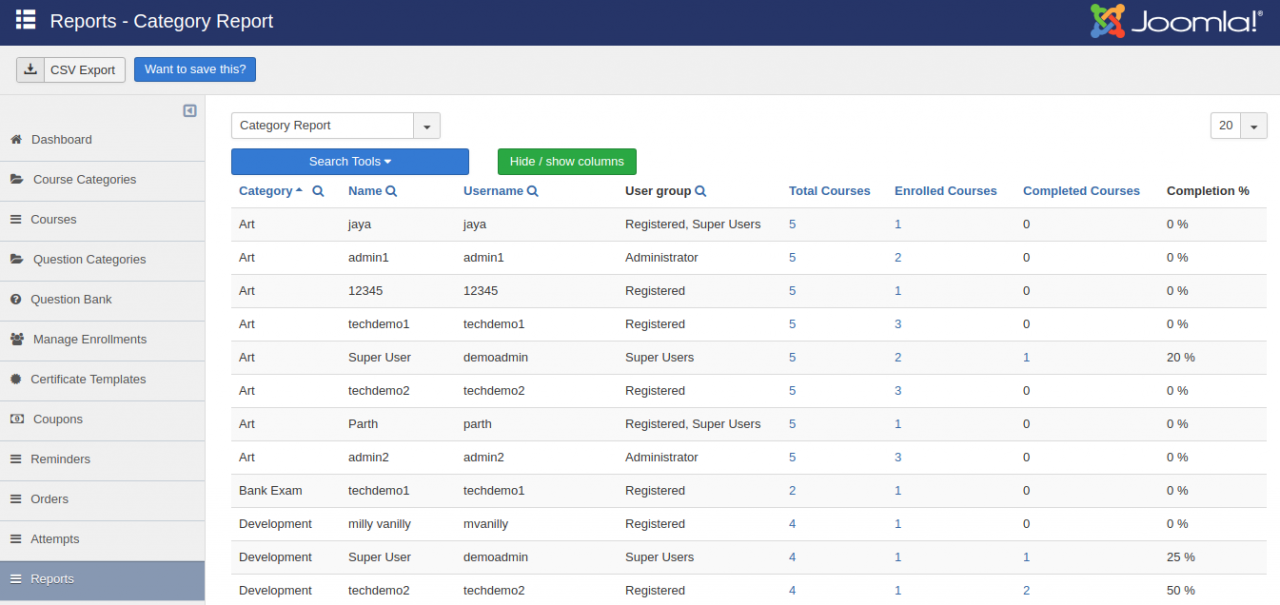 Improvements in Existing Reports
All the reports have been enhanced to add new filters on all reports as relevant
Manager Reports
This version introduces support for com_hierarchy that allows for manager-employee relations. This has been used in TJ reports to provide the infrastructure for manager reports. Via this feature a user who has users reporting to them in the hierarchy system will be able to access reports for their reportees.
Hierarchy Management
This is a Techjoomla infrastructure extension that allows you to maintain user hierarchy relations in your organisation. This relation can be used by other extensions to provide various contextual features. The extension supports manual addition as well as a CSV import feature. You can find out more about hierarchy management here.
Course Owner/Teacher Reports
With this feature we allow a Course owner to see reports of courses created by them.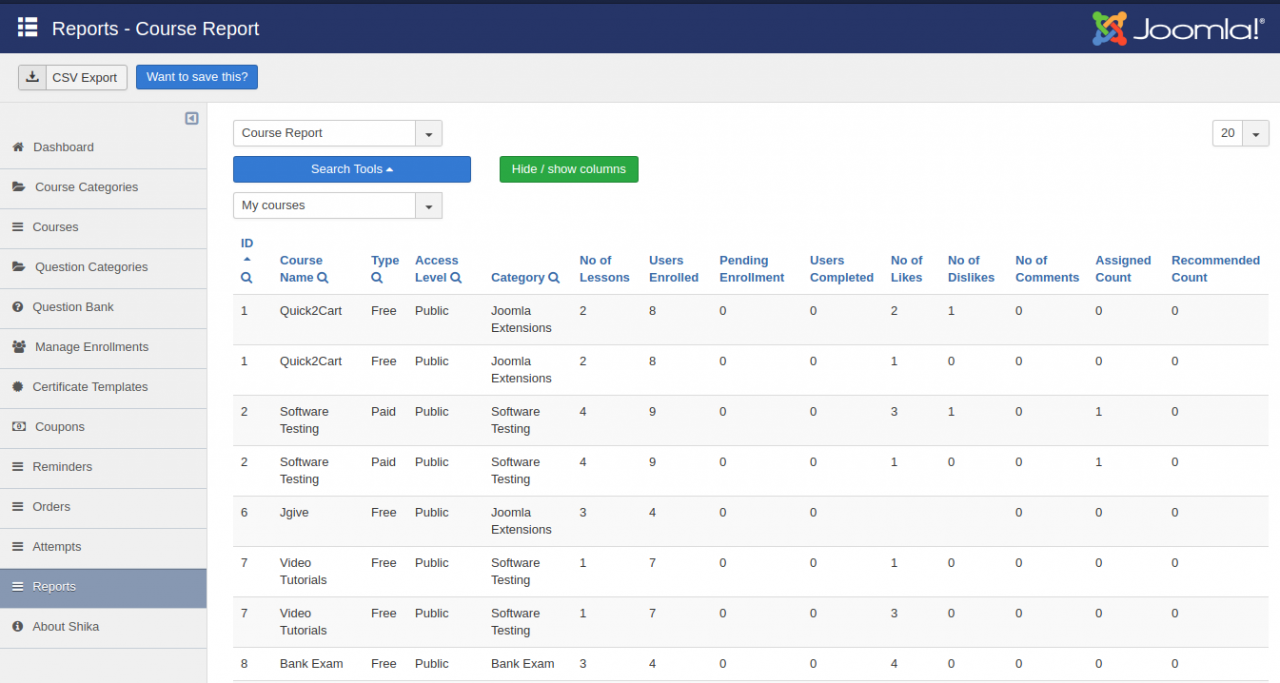 Frontend Access to Reports
We understand that as a administrator you might not want to grant access to your backend to Managers & Course Authors. So we have allowed creating a menu to reports in the frontend. Depending on the logged in users access they will be shown the relevant reports.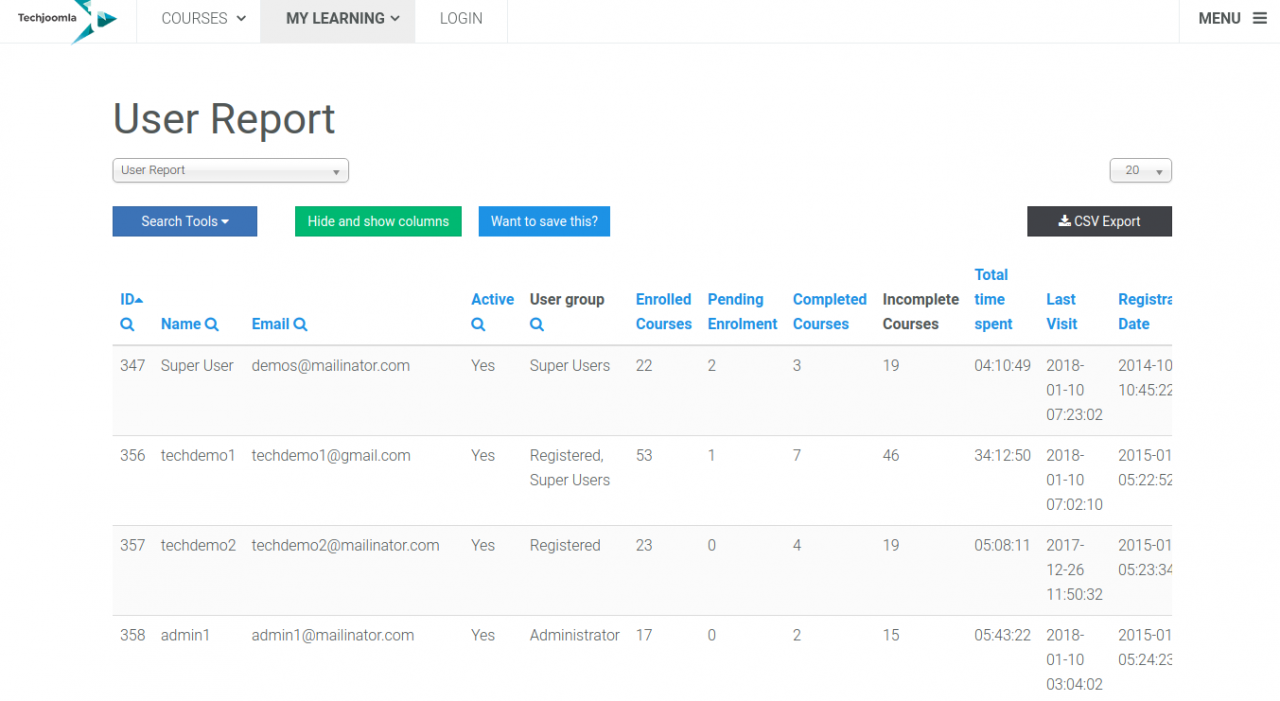 Report Access Control
TJ Reports introduces the ability to set access on a per report basis. You can configure this in the report edit screen and choose which Joomla user groups have 'View All' access or have 'View' access. Administrators can be given view all access. This defaults to view which means you can view reports of items you own.
Report Configuration
If you are in a mood to explore and do further customisations to reports, TJ reports supports report configuration where you can customise what fields from the report superset load by default. You can do this using the Params section in the report configuration. We will be releasing detailed documentation on this soon. Between this feature and access control, you can create different versions of a single report for 2 different user groups.
Bootstrap 3
As announced earlier, Shika will drop Bootstrap 2 support and adopt Bootstrap 3. If your template is using Bootstrap 2, you might need to make some changes using overrides to make it work. However we have tested this version with the Joomla 3 template - Protostar which is based on BS2 and it does work without any issues if you switch Load Bootstrap manually to Yes in Shika backend.  
Revamped Courses Menu
The Courses menu now offers new filtering options. Now you can choose to display courses from all or a specific category and also choose All, liked, recommended and enrolled courses. The Layouts offered also have expanded configuration and you can choose number of courses to show in pin layouts based on device size.