Woohoo! JGive 1.5 is here with the much awaited Joomla 3.0 Support & 20+ New features!  Since its release, we have had an amazing response from the community & its fast grown into one of the best Donations & Investment extensions for Joomla.


The biggest feature of this release is, of course, Joomla 3.0 Support. The next Big feature is the addition of Categories.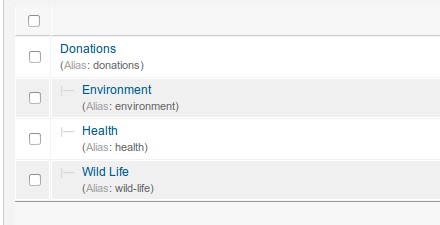 Category Management
Admins can create Categories & these can be used to better present and manage campaigns on the frontend. Another awesome addition is support for Guest donations.

Additional Flexibility with Guest Checkout
Now Donors have an option to donate as a guest without having to log in to your website. This awesome flexibility is sure to improve your campaign conversions.
Campaigns Module

You can use this super versatile module to feature your campaigns on other pages of your site. Configuration options include deciding which categories to show campaigns from & ability to show only featured campaigns.
Rich Text Editor for Campaigns
Users can use a full featured Rich text editor to add descriptions about their campaigns. We recommend using JCE & setting up a Profile for frontend submissions that allow only the required features on the frontend. This means you can now add multiple Photos, Videos etc to your campaign!
Here is the list of Major Feature Additions
Joomla 3.0 Support
Category Support
Guest Donations
Awesome new Social Sharing options with OG tags support
Rich text editor for campaigns & a Cool new Module for campaign display
Flexible Commissions with ability to charge X fixed price + Y %
Lots of Filters on the frontend in All campaigns view - configurable via menu options
Admin Approval workflow for campaigns & email notifications on changes
Terms & conditions support
Commission Configuration override on a per Joomla User Group level
Paypal Mass payments
Ability to Delete & unpublish campaigns from the Admin interface
Featured Campaigns
Campaign Display Module
This is one Upgrade you don't want to miss! Existing subscribers can immediately download this new version in the My Subscriptions Area
Read on for the full changelog for the detailed list of Feature additions & Bug fixes.
Read the changelog given below.  We will be updating the documentation in next two days.
JGive 1.5 Changelog -
 Compatible with Joomla! 2.5.x & 3.0.x
 + Features Added (20 +)
16513 Joomla 3.0.x support
16263 Import Jomsocial, Joomla & CB profile data to JGive forms
16013 'Fix amount' of commission fee to be charged per transaction
15927 Force users to complete profile before creating new campaigns
15925 Added new filters on 'All campaigns' view for country, state & city
15924 Added new fields website & group name on the create campaign form
15921 Send the notification email to the campaign promoter after campaign approved or rejected by site admin
15920 Send the notification email to the campaign promoter & site admin after creating the campaign
15347 Added 'Terms & conditions' on 'create campaign' and 'donation' forms
15212 Add ability to delete campaigns & payouts from the backend
14708 Added Mass payment functionality
14585 Added campaign-type & category filters in backend & frontend views
14465 Support for 'Guest donations'
14444 Social sharing buttons for campaigns
14437 Added Ability to mark campaigns as featured
14294 Added many new config options
13429 Show days left for donation
13425 WYSIWYG editor support for the long description field
13417 Category support
13198 Module to show the campaigns
- Bugs Fixed (1)
14699 Wrong item id used for redirects after clicking on donate button
Follow upgrade instructions here