The most awaited release of the year is here! SocialAds is now way more cooler, faster, flexible. With this release we have not only introduced some awesome features but refactored the entire code which is better organized architecturally for more extensibility.
What's new?
Surprise! Bootstrap 3 with backwards compatibility
SocialAds will be set to Bootstrap 3 by default after the installation. If you want to use it with conventional Bootstrap 2.x versions you will have to change the integration and follow the setup instructions given.
Backend Dashboard
We have added some amazing new stuff in the dashboard (practically gave it a makeover) using which admin will get insights of the total number of ads on the site and will be able to monitor his revenue, Click to impression ratio etc.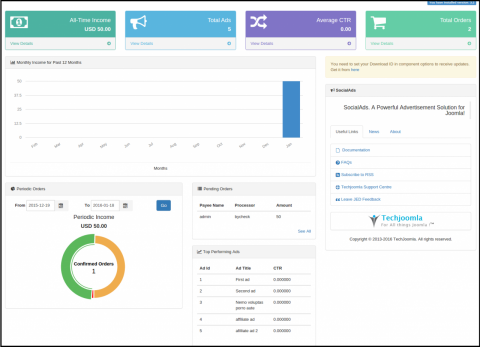 Separate views for wallet orders and Pay per ad order
Earlier, admin had no choice but to see Wallet and Pay Per Ad orders in the same view. Just to make it simple and segregated, now we have introduced two separate views for them.
Backend Wallets Order list view
Admin will be able to get the insights of all the orders in the wallet with respect to the advertiser and changing the status of the order (pending/ confirmed. etc.) from this view will be quick and easy. We have added a similar view for Pay Per Ad
Wallet details view
Scaning all the wallets of the advertisers at a glance is easy now for the admin. By clicking the view transaction link admin will be able to get all the details of the wallet (Wallet Transaction view).
Create an Ad campaign for your advertiser
In some cases admin might have to create a campaigns for the advertisers. Keeping that in mind we have added Wallet mode - Campaign list and form view using which admin will be able to create campaigns for advertisers.
Invoice support
Earlier, the invoice was to be send only to the advertisers through emails. Now we have introduced a invoice view in the backend from where admin will be directly able to view and print invoices.
Frontend Dashboard
This is something you will see for the first time in SocialAds. We have always wanted advertisers to get the insights of their ads about how are their ads are performing etc. just like the admin. So we have introduced frontend dashboard to fulfill this requirement.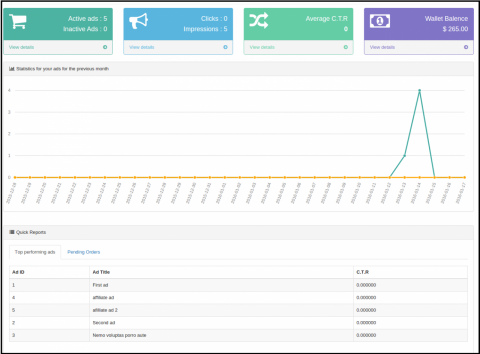 My orders view
Keeping a track of all the orders and status for advertisers is a piece of cake with newly introduced my orders view.
Compatible with Joomla 3.5x and PHP7 ;)