It's here! Shika 1.1 is out with 20+ spectacular new features that will take learning with Joomla to a whole new level. With Shika its always been our goal to give you a scalable learning management system that's not only simple to use but can also scale and adapt to various learning needs. In this release we take another step closer to that goal.  
When version 1.0 was released, we had decided that for the next few releases we will do less new features per release and release faster. However we ended up having to increase the features planned for the release as we had a lot of merge requests pending from our customization teams. Delaying these merges would have meant complicating things for future releases. So it was decided that 1.1 will end up being a much bigger release than originally planned. 
Shuffling for Questions and answers, Event as lesson, Automatic random quiz generation, Link as lesson, Assignments and Goals are just some of the features that come to you in this release !  The net total if you include all the minor features goes upto 24 or so new features and a lot of bug fixes and improvements.
Please note that this release is a 'Major Release' and thus needs a migration. The Migration is pretty painless but you need to run it in both Shika as well as jLike post installation. Once you install the release, make sure you click the 'Fix' buttons in the left corner on the Shika and jLike component pages. Also make sure you read the release notes carefully before you upgrade !!
Buy Shika Now!         View Shika Demo!
Here's a Surprise offer for you ! Use the coupon SHIKA11LAUNCH to get a 15% Discount when you Purchase Shika or JTicketing ! Offer expires 5th January. 
Read on to see the full list of features and their details...
New Features in Shika 1.1
Quiz Engine Improvements
Dynamic Random Quiz Generation from Question pool sets
Do you want to give a random Quiz to each student from a master set of questions in the Question bank ? You got it ! With this feature, its possible to define a Master Pool of questions from which a random quiz is generated for each student. No more copying !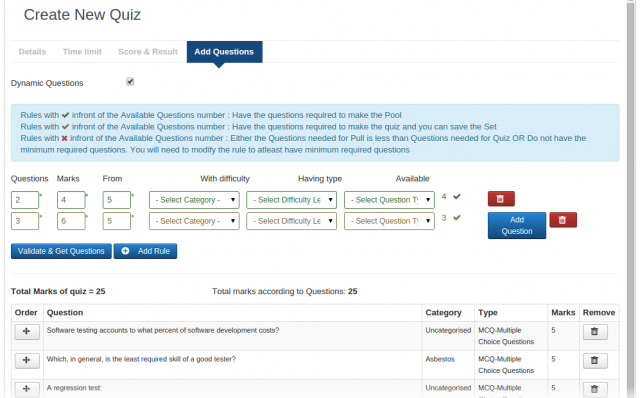 Question & Answer Shuffle
Another way to prevent those copy masters. This will randomly shuffle the order of rendering of questions as well as the order of answer options as per the configuration.
Brand new Lesson Types
Event as a Lesson with JTicketing Integration
Typically Learning management systems are associated with 'On Demand' learning. With 'Event as a lesson' support with JTicketing we introduce the ability to add 'Scheduled Training's' into your Shika courses. This is just a start to the various 'blended learning' combinations that you will be able to achieve with Shika in the future.  
Since JTicketing now supports online training now with Adobe Connect integration, these 'Events' can be online or offline ! Note that you will need to buy JTicketing separately for this to work.
Link as Lesson
We believe learning happens everywhere and an amazing amount of learning content already exists on the internet. Most of the times it just needs someone to compile it and set it in the right context. Link as a lesson allows just that. You can use links from any site that allows iframe embedding.
Joomla article as lesson
This is another feature that's made it into this release by user demand. A lot of our customers wanted to re purpose Joomla articles for their learning content and also get benefits of using the plethora of 'Content plugins' available for Joomla  for creating content. Joomla webmasters thus need to have no new learning curve to create learning content now ! Just like HTML lessons, we track time spent on these lessons too !
Course Assignment and Goals
In a corporate environment you want to be able to assign courses to students and have them complete them in a specific time frame.  With course assignments, admins and course owners can assign courses to students and set start and due dates. Students can also set courses as 'Goals' with due dates for themselves.
This is powered by jLike transparently in Shika and is an excellent example of the seamless integration goals we have set for integrating products with each other. This comes with an improved back end enrollments view with better filters. We are also shipping an Alpha of 'jLike based reminders' with this release which you can try in jLike. 
Reporting Improvements
Improved User report with Joomla user group filters
Now filter the user report using Joomla user groups. Very useful if you are using Joomla groups to setup departments in a company.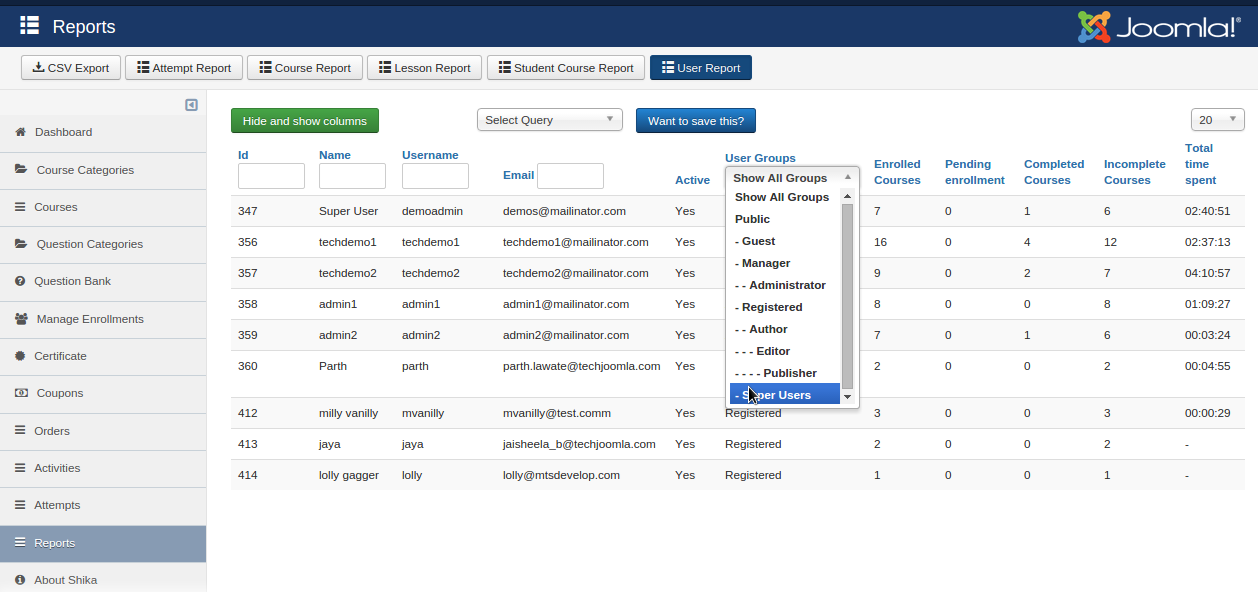 Compare spent time vs ideal time for lessons
The attempt & lesson reports get an upgrade to let you compare Spent time vs Ideal time. `
Certificate Improvements
Brand new Certificate manager
Now create multiple certificate templates and choose which template you want to use when you create a new Course.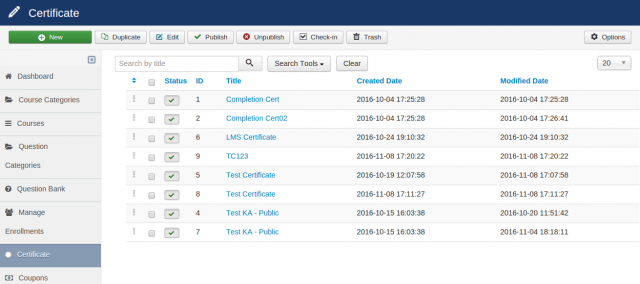 Unique Certificate ID per certificate
With this feature every certificate that is awarded via your LMS gets a unique ID which makes it easy to track authenticity.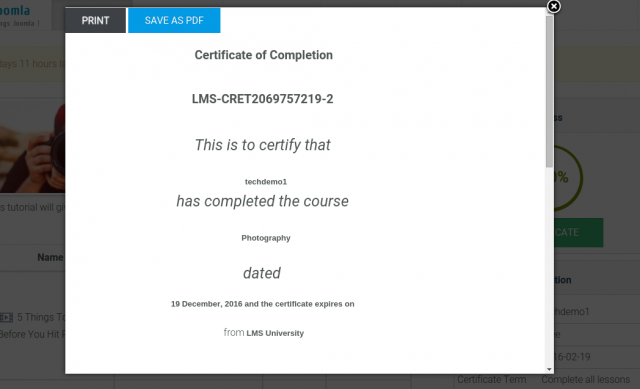 Certificate expiry
When creating a course you can now also set a certificate expiry after which the certificate becomes invalid. Both this and the above features are extremely useful if you are doing CPD (Certified Professional Development) type courses which expire after a certain period. 
Show total time spent in course on certificate
Lets you output the 'time spent' by the user in the course as a replacement variable in the course certificate. 
Support for Easysocial Fields in the Certificate
Personalize your certificate by using select EasySocial fields in your certificate template. 
Ecommerce Improvements
Subscription renewal after expiry
This was more of a miss in the earlier releases. Now its possible for users to renew expired subscriptions .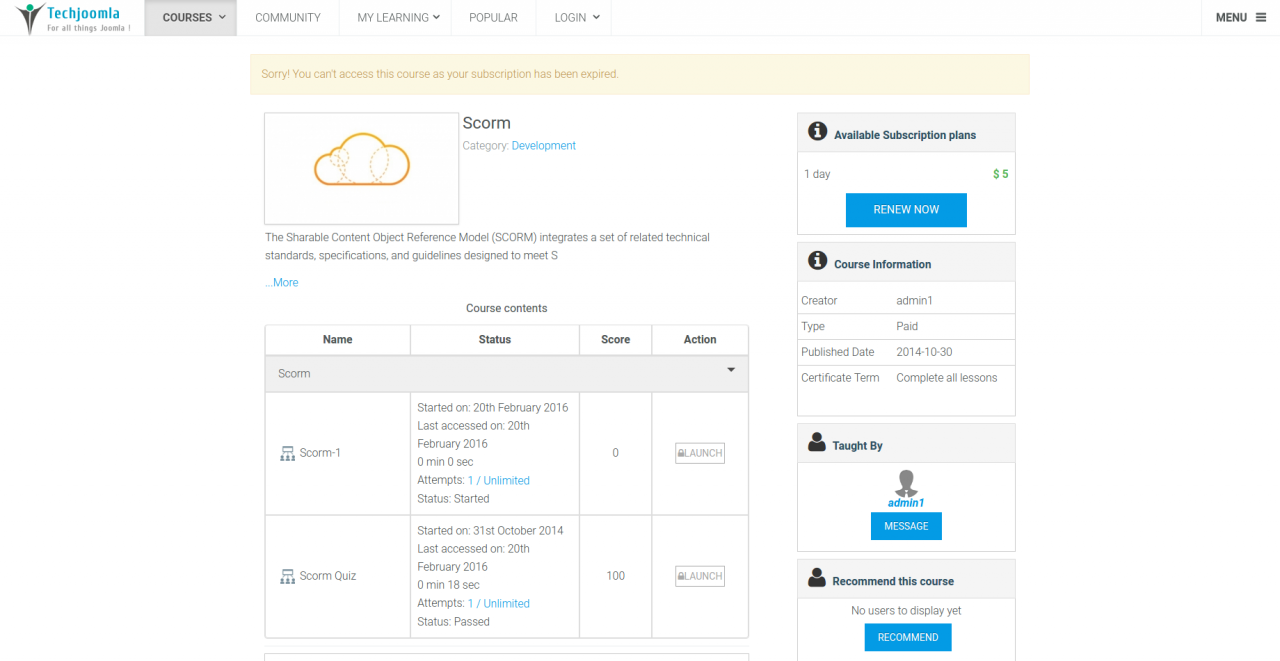 Manage enrollments & assignments in a easy to use view
Easy to manage enrollments and assignments along with the respective start date and due date along with user notification.

Show Coupon used count on Coupon list view
Now easily find which coupons are working better for you with a 'Use Count' display which shows how frequently a coupon has been used in the system.

Course Specific Coupon
This allows you to now create coupons that are specific to a course. It also lays the foundation for 'Vendor specific coupons' that will come in later versions when we bring multi vendor support.
Module for courses that shows My Enrolled Courses and any courses from single/multiple categories
A module that displays the list of courses, total number of enrolled users, start date and type for the courses.

Ideal time for lesson 
Ideal time for lesson can be set from the backend to assign the ideal time in which a particular lesson/course is supposed to be completed.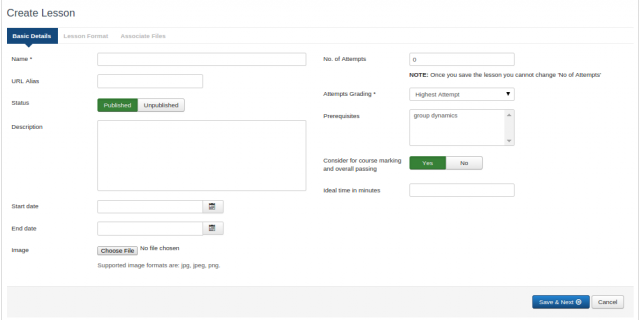 Dashboard widget for total ideal time
Dashboard widget for total ideal time denotes the total time that is to be allocated to each lesson and for comparing with the actual time spent for each lesson which helps time tracking.

Ability to create a new Menu type to link to a specific Course.
One can create a menu item for a single course, from backend menu manager.