It's a great pleasure to announce (finally ;)) that our super flexible E-commerce solution for Joomla is here! For those who haven't heard about this yet, here's a recap!
In all the years we have been working in Joomla, we have continuously been frustrated with the lack of a shopping cart solution that's plug & play & at the same time is robust & scalable. There are lots of Carts in the market. But for most applications, they are just too huge & come with a lot of overheads.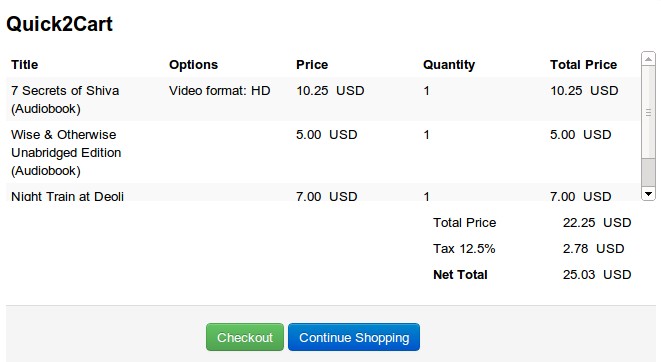 As you might have heard, Frustration is the Grandmother of Invention :) Well then as it goes. One thing led to another & Quick2Cart was born. It was planned though!



Quick2Cart is a super flexible E-commerce solution that lets you set up a Shopping cart Quickly. With great CCK integrations, you have the freedom to manage the products as you want while Quick2Cart handles everything related to Cart & Checkout. 
Plus with 10+ Payment gateways on the Common payments API & awesome developer APIs, it's easy to extend Quick2Cart to do your Bidding..See the Full Feature List
Super Awesome Discount for Limited Period!
We are giving an awesome discount for early birds! Get a 6 Month Subscription for just 30$ ( Regular price 45$) & a 12 Month Subscription at 45$ ( Regular price 80$ ) !! Buy Now!