It gives us great pleasure to announce that a Seblod integration has been developed by one of the members of the community!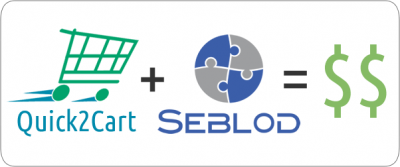 Seblod is one of the leading content construction kits (CCKs) available for Joomla. Extremely flexible and scalable, once you get familiar with this awesome CCK, you will find that many simple to complex needs can be satisfied by this CCK. In some cases, you can also avoid custom development situations by using Seblod.
The Quick2Cart integration now makes it possible to leverage Seblod for E-Commerce applications too! Now you can build simple to complex product scenarios in Seblod and sell them online using Quick2Cart.
The "Marriage" of two extremely flexible extensions for Joomla - Seblod and Quick2Cart seems to be like a match made in heaven! Thanks so much, Codigo Aberto for bringing them together!
Please note that this integration is not developed by Techjoomla. It's developed and supported by Codigo Aberto of JAddons.com . So any support requests regarding this integration should be directed to him.