With Quick2Cart on your Joomla ecommerce site, your users will have an out of the box online shopping experience. Quick2Cart 2.6 is a very special release since we have at least one thing for all of them; the Admin, the Store owner, Buyer and not to forget the Developers. Let's have a look...
What's new?
Pay with Amazon Integration
Handling stuff like payment gateways, shipping providers etc. has always been a pain. Now let off this pain, since the entire checkout process and post checkout will also be handled by amazon. Let people buy a product on your store and let Amazon handle the checkout part including shipping etc. How's that? :D
Note: As of now this Features is for "Pay with Amazon India" and will work only for single vendor

Common SMS API integration for Joomla
Developers can rejoice, as we are introducing an Api which they can use to implement SMS integration for Joomla extensions.
SMS integration for Quick2cart
Store owners can relax, as the buyer will be kept updated about the status of his order with an SMS on his registered cell phone number. SMS integration for Quick2Cart will work with SMS providers like clickatell, SMS Horizon.
Change ordering of the products
Admin will now be able to change the ordering of the products easily by just dragging a product and dropping it in the sequence which he wants.

Apply Coupon code for Modules and Cart
Earlier, Apply coupon code field used to be displayed only at the last step of the checkout process. With this new addition users will be able to apply coupon code in the cart and also in a module.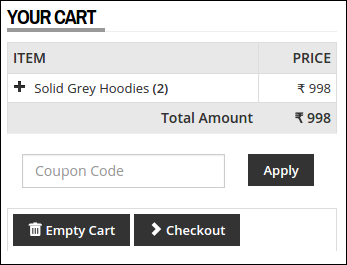 New Setting for emails
Admin will have the control over the system emails sent through Quick2Cart.

Now compatible with Joomla 3.5x and PHP 7
What are you waiting for? Start your Online Shopping portal with Quick2Cart now!