Introduction to Joomla
Joomla 4, the first beta version, was launched at the year-end of 2018, with a stable release in the initial year of 2019. This has been a revolutionary step for the Joomla CMS by keeping the promise to bring the Joomla glory back. But even though we have got a new version of Joomla, there is still a lot of work to do. 
As Joomla is always at the work of constant up-gradation and innovation, it has now come up with the latest advanced website development features. With the demand for a robust and dynamic CMS platform because of modern technology, Joomla knew it was time to step up. Thus the awakening of the new release of Joomla 4. 
The outdated version does not offer much flexibility to the developers to build projects and also restricts new users to get on board with Joomla. Thus, the Joomla 4 version explores the potential of modern technology that is more responsive and fulfills the latest demands of the users. Although the release has brought some speculation among the Joomla users because of the habit and familiarity formed with the older version of Joomla, hence, some users may be resistant to adjusting to the new version. 
History of Joomla
First, Let's dig in deep to understand the origin of Joomla that will help to get a perspective towards its CMS product offerings from its early days.
Mambo was first developed in 2000 and, then after a year, it was made free to the public which resulted in tremendous support and enthusiasm from the users. In 2005, Joomla was launched and it is considered to be the fork of Mambo. The first version of Joomla was released in 2008 with all-new powerful features that can be applied to the open-source CMS world. The Joomla developers created "Opensourcematters.org" which was used to share the information with the software community. Since then, Joomla has never stopped providing advanced features and there has been proactive community support associated with it.  
Why Joomla?
Joomla is one of the Top free open source CMS platforms in the world and has 2.5+ million websites registered. With Joomla, you can easily set up a website with a variety of options available to build a responsive website. Below are some of the top reasons why Joomla is the preferred open source CMS.
Joomla offers a free open-source infrastructure that is created and maintained by the Joomla community. Many prefer an open-source framework as it is easy to build and manage features on the CMS platform. It can also be modified and distributed with the original rights because of the free source code. Hence, Joomla is the most preferred open source CMS by developers.
Easy to customize and extend system:
You can surf through thousands of design templates that are free of cost and there are also paid templates that come with a lot of options & Joomla support. You can easily customize solutions like layouts, language, templates, CSS, and more with Joomla. Joomla extensions can be used to increase the capability of your website. You can choose from thousands of third-party extensions in the Joomla marketplace where you can extend your system.
Strong security protocol:
Joomla offers built-in two-factor authentication and wide options of control levels to make your system more secure. Joomla's security strike team has proven to be ahead of any downfall by releasing patches before any bugs exploit the system.
Joomla has made sure that the system is accessed by a global audience by offering 70 translation packs. Building a website on Joomla is easy for the audience that demands native languages.
Build robust applications with PHP framework:
Joomla allows you to write web and command-line applications in PHP that offer a stable and lightweight framework that is easy to adapt and extend according to your requirements. This made it easy for the developers to build extensions for Joomla and manage Joomla CMS effortlessly. 
So now you know why Joomla is famous especially among the developers because of its adaptability and customizable solutions.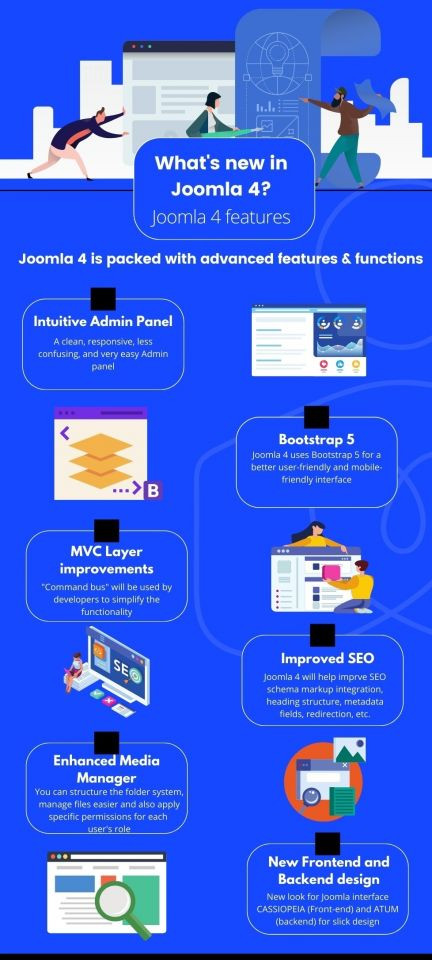 What is new in Joomla 4?
Joomla announced the latest release of Joomla 4 as the major version of the Joomla CMS. With this new release, you can expect new features, support for minimum PHP version to PHP 7.2.5, and eliminate functionalities that aren't up to their optimum usage. 
Latest features added to the Joomla 4:
Quick installation
A Brand new User Interface for backend as well as frontend, based on Bootstrap 5
AA level WCAG 2.1 compliance on core templates
An improved media manager with image editing capabilities
A Brand New Workflow Manager to define custom approval workflows
Web Services out of the box
New security features for SQL statements
Customizable HTML mail templates
Enhanced Command Line Interface
Powerful codebase
Utilization of more Joomla Framework into CMS
Improved Event dispatching system
MooTools is no longer in the core system
MVC layer improvements
Benefits of Joomla 4
Joomla 4 offers tons of capabilities and improvements and comes with new technologies like Bootstrap 5, MVC layer, PHP7, and more. We will discuss them in detail below.
PHP7.x offers greater performance improvements compared to earlier versions of PHP. Since Joomla 4 will be using PHP7.x and it will be set up as a minimum requirement to run the latest version of Joomla, websites are going to benefit from that.
You can now easily run SaaS files on Joomla 4 that will come with a lot of flexibility and have fewer amount of style codes.
With improvement in the MVC layer, the Joomla 4 will work smoother and promote stability of the system. In the case of extension, the components will use their own core functions and others will be used from the system. Developers will use "Command bus" to streamline the functionality.
Bootstrap is one the most popular CSS, HTML & JS frameworks for building web applications. Joomla 4 will ship with Bootstrap 5 to make the website more powerful. Earlier, Joomla was using Bootstrap 2, and now with the latest version of Joomla 4, it will use the Bootstrap latest version to prevent any backward compatibility issues.
There will be no Mootools in Joomla 4 to eliminate any issues and promote system flexibility.
All-new Workflow feature:
With the new Joomla 4 workflow feature, you can allow administrators to review the article before it is supposed to be published. The Administrator will also get an email notifying about the status of the article if it is submitted on the webpage. The new features allow you to create user groups, give limited access control, and set approvers and posters for the article or blog.
In the Orthogonal System, there will be two components, vertical and horizontal. Vertical components will consist of Content, Weblinks, Contacts, Users, etc in Joomla and Horizontal components will consist of Tagging, Custom Fields, and more. With the Orthogonal System in Joomla 4, the third-party developers can use new capabilities across extensions.
Requirement of Installation of Joomla 4:
To install the Joomla 4, you will need to have the system requirements mentioned below:
PHP 7+
MySQL 5.5.3+
PostgreSQL 9.2 +
For the Joomla 4 version to work, you will have to update your site with the latest version of PHP, MySQL, and PostgreSQL or, otherwise, it will fail to establish a database connection.
Future of Joomla 4:
We have now already discussed Joomla 4 in brief so now we will discuss the aftermath of the release. Joomla has planned to release a minor version of Joomla 4 every 6 months with bug fixes and the latest features. The development for Joomla 4.1 is already under development. For every latest version after the release of Joomla 4, there will be one major feature and four additional supporting features. The new version will focus on the look of Joomla by focusing on accessibility and usability. That being said, the latest features will not be only confined to the defined structure but new functionality also will be added.
Joomla 4.1:
In Joomla 4.1, the media manager features will be improved compared to the earlier version. Currently, the media manager is used only for uploading images. But with the latest version, it will be able to manage collections of images and media. It will also offer supporting features such as a signed update(ensure the legitimacy of the installed update), Poor mans CRON(implement an internal cron job system), added accessibility features and added usability features.
With the Accessibility feature you can:
Hide/Unhide columns in list views per user
Turn off/on the user notes
Improve accessibility of media manager
Easily access Toolbar
Add keyboard navigation to list & edit views
With the Usability feature you can:
With AJAX call, you can change the state of an item
Load the last use menu type by default while creating a new menu item
Add support to different languages in the default menu items
Images/links as custom fields
Add Trash icon/button for navigation
Joomla 4.2:
Currently, the Joomla 4.2 is said to offer one major feature and three minor features but right now they are still in the works so there is a possibility for more additional features in the future. The major feature will be the Multi-Domain functionality which is currently being developed. The supporting features will have content drafting (edit/change content without publishing and publish it later), Health check (page to check the Joomla files and Database structure), and additional features for the accessibility and usability of Joomla 4.
What do we plan to offer with Joomla 4?
We have made our number one priority to improve our user experience with the latest update with Joomla 4. We will be updating our Techjoomla extensions and testing them regularly to ensure that they are compatible with the latest version. We also aim to release new features with a stronger codebase so that you can experience a more robust performance.
The Joomla 4 latest version promises to deliver the latest technology advancements in terms of the latest features and designs. As a Joomla provider, we will be working hard to ensure that our products are compatible with the latest versions and we will also guide you with the Joomla 4 download process.
Please do Stay in touch as we will regularly update you on the progress of Joomla 4 and its upcoming releases. 
Joomla co-founder Brian Teeman has launched a brand new website for Joomla 4 training tutorials. Techjoomla is a proud video sponsor for this new website. We hope more people adapt to Joomla 4 quickly with the help of these informative lessons.