Associations are engulfed with many challenges. Some of the typical challenges faced by associations are as follows.
A typical association website involves the following aspects.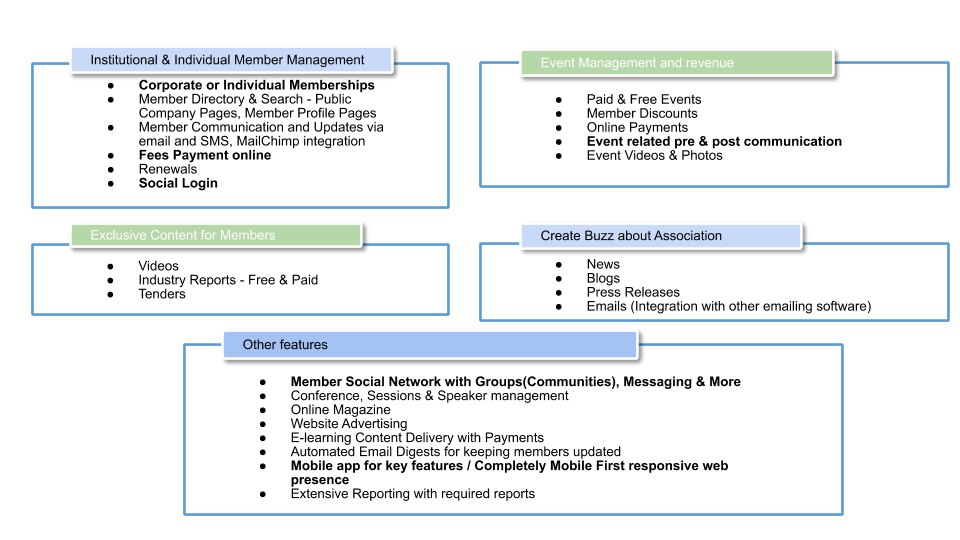 Why use Joomla?
Joomla is a powerful CMS that powers more than 8% of the websites on the internet. Joomla is SEO friendly, secure, and is supported by an ever-growing Joomla community. Many popular association websites are created using Joomla. For example, IESA 
A combination of the best Joomla extensions can help you create your own association website. Many of these extensions are available on the Joomla Extensions Directory. 
PayPlans has been the leading extension for online memberships, be it individual or corporate. One can easily renew membership with PayPlans. Members can also download the invoice for their membership.
Login with LinkedIn can be powered using JFBConnect integration.
JTicketing is our popular event management extension. JTicketing offers paid & Free Events, Member Discounts for events, online Payments along with a feature to post-event videos and photos. Besides this, event attendees are communicated using the email notifications feature in JTicketing.
In order to generate more revenue, the association website can publish advertisements on different pages in different zones using SocialAds.
EasyBlog can be used for posting various blogs and keeping the site visitors updated with all the recent happenings.  
Associations can create their own social network for its members using the powerful functionalities of EasySocial. Easily create member Profiles, make new friends, enable photo and Video Sharing, create special Interest groups.
Online members can chat with each other using JBolo, an extension similar to Google Hangouts. 
Thus, the benefits of using the Joomla framework for associations are summarized in the diagram given below.