Now all the campaign owners will be able to monitor the donations more effectively and get a clear picture of how the campaign is performing. Admin can also get an overview of how much commission he has earned and how all the campaigns on his website are performing so far. That's not all, JGive is now adaptable to all the wonderful templates in Joomla who use Bootstrap 3.
Let's get into the details!
Frontend Dashboard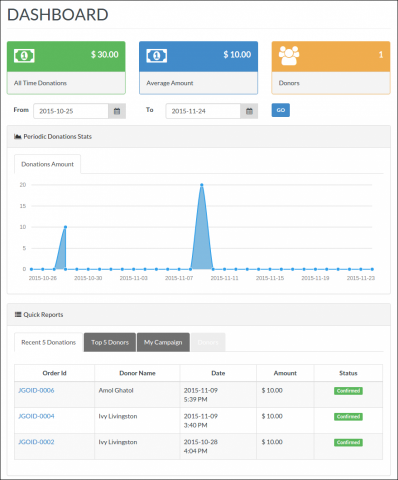 With this version we're introducing a frontend dashboard for campaign owners. They will be able to closely monitor their campaigns by having a look at the All time donations of the campaign, average donation amount and graph of the donations happening per day.
Backend Dashboard
Admins will now get the liberty to get an overview of all the campaigns on their website by having a look at the Total Campaigns, Total Goal Amount, Donation Pie Chart, Funded Amount and Commission Amount.
Bootstrap 3 support and Backward compatibility for 2.x
JGive will be set to Bootstrap 3 by default after the installation. If you want to use it with conventional Bootstrap 2.x versions you will have to change the integration and follow the setup instructions given.
Renew before your subscription expires and get a special discount!