Whether you are doing fundraising for a non-profit or building crowdfunding marketplaces to drive innovation, a key element is building trust between the donors and the promoters. Regular reporting on how the donor's money is being used can go a long way in establishing this critical relation.
With the campaign reporting feature in JGive 2.2, we bring a rich and intuitive way for campaign managers to give updates on their progress to stakeholders.
Besides this there are a host of other improvements and features that make this release a 'must upgrade' !
Buy JGive Now              View the JGive Demo!
Read on to get the complete details on what this version has in store for you. This is our third major release as a part of JGive nEXT series. Make sure you read our release notes before you upgrade as backward compatibility breaks in this release.
Campaign Reporting
Publishing rich updates to stakeholders in your campaigns is super easy now. You can enrich your reports with the WYSIWYG editor and even choose to attach PPT and PDF files .
jLike based commenting powers stakeholder engagement on reports.
Finer control on campaign features
With this release, site administrators can easily choose to hide the activity stream as well as reports.

Set single campaign in module
Campaign wise module enables the Campaign owners to highlight the single campaign on any part of the website after selecting the module position. The module can also be integrated as a part of Joomla articles. Note that the feature only works for pin layout.
Better currency support via Money library integration
When one talks about the moolah, the numbers are pretty meaningless without a specific denomination. With JGive 2.2, we have introduced support for money library to support currencies in a more meaningful manner. In the past - for instance we were not able to support the Japanese Yen (¥). This currency is now supported.
Quicker checkout for single payment gateway scenarios
With JGive 2.2, we have simplified the checkout process if only a single payment gateway is configured in the backend. An additional step of selecting the payment gateway is automatically skipped. Note that this feature won't work with the quick donation view.
EasySocial My Campaigns Application highlighted as the main content of page
We had received feedback from our subscribers related to displaying the My Campaigns App in EasySocial. From this release onwards, the my campaigns app will be centered as the main content of the page instead of a sidebar.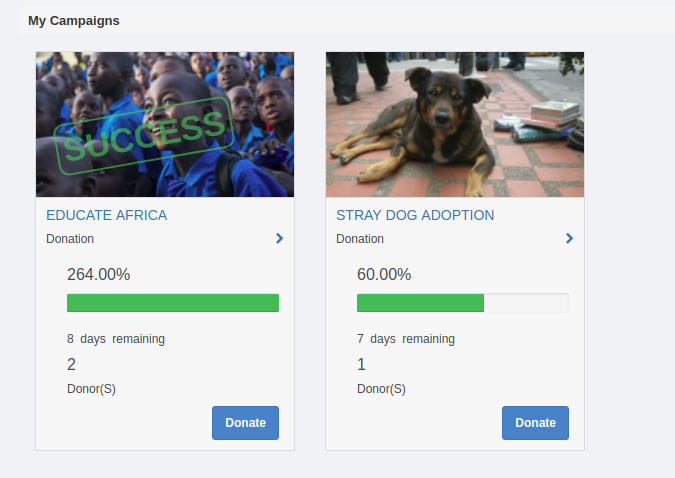 Ordering campaign list view in backend similar to Joomla articles.
With this feature, site administrators can quickly change the ordering of the campaigns from site backend in campaign list view similar to a list of Joomla Articles. Site administrators can simply drag the campaigns up or down to change the ordering

Improvements to EasySocial & JomSocial Activity Stream
JGive's activity stream format has been aligned with EasySocial and JomSocial activity stream. From JGive 2.2, campaign image and description is displayed along with the campaign link for the newsfeed notifications.