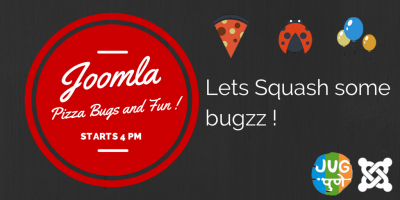 Techjoomla and Tekdi Technologies is proud to be associated with the global Joomla community and is happy to announce that we are hosting JUG Pune's Joomla Pizza and Bugs event to help local volunteers contribute to Joomla. If you are in Pune and are a Joomla fan or would like to know more about what Joomla is and what it can do, we encourage you to be part of this awesome event.
Joomla User Group Pune - Pizza Bugs and Fun !
Its that time of the year again when all the Joomla folks in the world get together to squash Joomla Bugs. Its a wild party with bugs getting squashed, patches being tested and docs being written.

And of course there's free Pizza and lots of Joomla Geeks to interact with. Whether you are an old Joomla Pro or a complete fresher, whether you know coding or don't - we will have something for you ! Read on for the full details..