Like all communities #joomla has its favourite hashtags that you around the twitterverse (Yes thats an actual word !). There are many that keep coming and going but there are some that have become part of the cultural fabric of the community.
I obviously have to start with this hashtag that's used to tweet anything and everything about Joomla.
I am actually the culprit behind creating a duplicate tag here. I had no idea #howtojoomla already existed and was in use and initiated by @ostraining and getting inspired by a similar effort in the Magento community, we initiated #how2joomla. So now we have 2 of them!
Both of these tags can be used to ask questions about #joomla.
#jpositiv ( that's jpositiv without the trailing e)
Celebrate the good things about Joomla and the community in general with the #jpositiv hashtag. Coming on the background of some dark times in the community, this hashtag became wildly popular and is regularly used by the community to share Good tidings. Its got an interesting story to it too!
While it's important to be optimistic and look at the positive side of things, it's also important to be realistic and not get too carried away. Sometimes you need to be realistic and pragmatic. #jnegativ was born out of that need. So if you have something that needs to heard thats 'smell the coffee' type content, this is the tag to use.
AFAIK Coined by Sander Portjer to indicate a Joomla enthusiast. Use it to give a shout out to fellow joomlers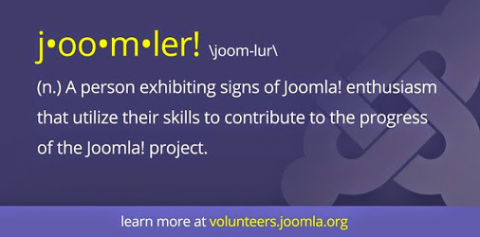 Taken an awesome #joomla selfie ? Share it with the world with the #jselfie tag!
Coined by Joomlashine to celebrate the unwavering spirit of Joomlers world wide. In their own words " The #JoomlerSpirit - the spirit of being "Together" and being "As a whole" has kept Joomlers as sturdy and resilient as ever". Check out their awesome collection of #joomlerspirit tweets.
Celebrate Joomla's 10th year and tweet your thoughts and celebrations with this hashtag.
It was created by Joe Campbell. While not a developer, he realized he could contribute to the Joomla! community by providing honest feedback and suggestions. More than a hashtag, #JFeedback is now a principle that empowers and inspires us all to constantly improve every Joomla! creation and experience.
There's lots more !
#ilovjoomla #joomlarocks and the list goes on.
Want to add some more ?
Are there any other hashtags that you use regularly with Joomla that we have missed? Do comment and let us know !