This time around, we have something that will make every Joomla site say - 'Hey why did I not have this all this time?'
Introducing the Joomla 'Email Beautifier' which will help you say bye-bye to all vanilla flavored Joomla emails. How many of you have looked at the silly 'welcome email' and complained that it is so very un-cool? Gosh! I see so many hands up in the air! So here's an answer to all of that.. and more. With the Email Beautifier, making your Joomla emails look nicer is as simple as A-B-C
Look at what we did to Superman's site
Before

After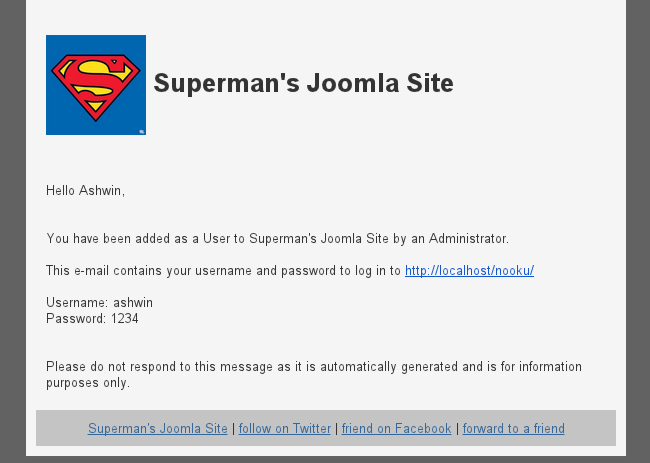 Cool, but what if one of my extension already has template support, say J!MailAlerts?
Supercool - There's a configuration where you can skip certain extension emails from getting beautified!
Sounds awesome? Thanks & we hope you will enjoy this extension once we release. We're currently testing the Beautifier with a bunch of your favorite extensions like Jomsocial, Tienda, and several others to make sure all emails can be correctly beautified. Once this is done, look forward to a release!