It gives us great pleasure to announce the availability of SocialAds 2.7 which comes with the awesome power of Geolocation Targeting! Social Targeting for CB & JomSocial has always been one of the most powerful features of SocialAds. But ads targeting guests were missing the ability to target. Now with Geolocation, its possible to now target Guest Ads as well. Whats more, you can use a combination of Geo Targeting & Social Targeting to make your ads even more accurate ! With Geolocation, you can target Ads by Country, Regions & Cities as per your choice.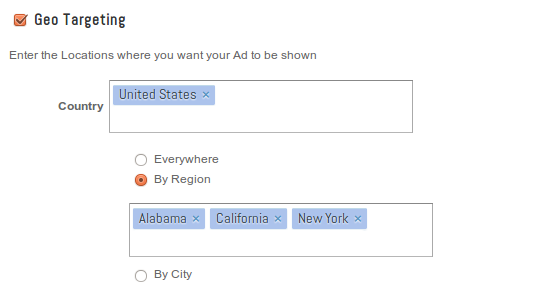 Another Behind the scenes addition is what we call Ad Slotting . This is an improvement in the logic of how ads are shown to the end users. This change optimises the ads display such that maximum ads are shown while maintaining the best possible accuracy. We shall be blogging about this feature in detail next week.
Besides these features, we have fixed quite a few bugs & added some usability & UI enhancements.Active subscribers can download the release from the My Subscriptions area. If you haven't got SocialAds yet, or if your subscription has expired, Buy now !
Please check the full changelog by clicking on Read More for all details.
---
Full Changelog
Task #10037: If only one payment plugin is enabled then no need to show it
Bug #10203: modify query for auto suggest country/state
Task #10206: include config for geo targeting in backend settings
Task #10207: config for selection of geo /social / random in backend settings
Task #10208: modifications to jma_socialads plugin for the new slots from adshelper
Bug #10216: include Jtext for Ad type (Text & Image,Image,Text)
Bug #10274: When per day option is selected by default the calendar is not seen
Task #10425: show ad id in Ad orders view
Bug #10426: error in Ad orders when user does not exists
Task #10492: Give link of for populating geotables while installing socialads also add this in backend setting if geo data not present and populate geo related tables.
Task #5925: pagination on front end not working if we save for create ad page and click on next button..
Bug #8104: when delete ad all the data related to the ad should be deleted
Bug #8920: For AdsInEmail in mails Ad title is blank for image ads
Bug #9262: click on ignore column 500 - View not found Error in some cases
Bug #9299: javascript function not defined error on showad view
Bug #9416: ad renewal for per day ad not possible
Bug #9417: per day ad does not support if payment is pending