Shika 1.3.38 comes with new SCORM reports that track learner's responses on the lessons they are taking. This feature gives a closer view to the learner's engagement with the lessons he is taking for any particular course. Besides this, this release also has plenty of new improvements. We have also fixed plenty of bugs in this release. 
Buy Shika Now!         View Shika Demo!
Features
SCORM Reports
With Shika 1.3.38, we have introduced two new reports-SCORM report and SCORM summary report. 
1) SCORM Report - Displays user information and user responses vis a vis correct responses etc.
2) SCORM Summary Report- It displays the user information like correct response, average interaction duration etc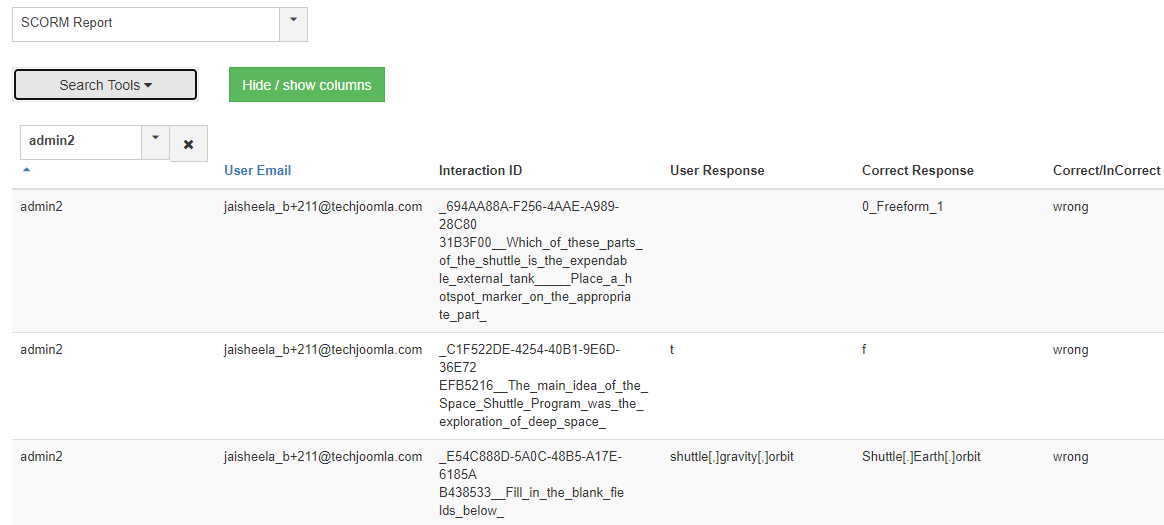 SMS support & Multilingual support for notifications
With Shika you can send transactional SMS text notifications with the upgrade of our infrastructure extension TJ Notifications. Currently we are supporting SMS adaptor plugins for Twilio & Mvaayoo.  You can read more about the TJ Notifications 2.0 release. Shika's latest release now supports multilingual notifications, powering up communications like never before. 

Shika v1.3.38 Changelog:
+Features:
166062 Introduced two SCORM interaction report- "SCORM report and "SCORM summary report"
162473 Shika has integrated with the latest TJ Notifications and added  SMS support for all email notifications
+Improvements:
166201 Added City column in Paid course report
165930 Multiple languages support in Quiz Question/Answers
165594 Introduced Shika config under cron setting "Send subscription expiration email day(s) before" 
165053 Display an alert message to the user if any question is not attempted in the quiz.
164603 Add new sidebar menu in Shika menu list for tj-notifications subscription
-Bugs:
165363 Certificate > If any existing unique code is used to create a certificate template it throws error
165361 Certificate throws error on view after clearing the search
165125 Frontend > While selecting a payment gateway for buying a course, in case user cancels the transaction, user gets logged out of the system
165063 My enrolled courses menu doesn't show all the courses for those user is enrolled to
164039 Correct user status is not being shown in user report