We are happy to release Shika 1.3.15 with lots of new features. This is our second release in a span of 15 days. We would like to thank our Shika subscribers for their constant feedback that has accelerated this release. Some of the Key highlights in this release are - mandatory questions for exercise/feedback, subscription plan specific coupons and new UI improvements for checkout, TOC, and invoice views.
Read on for more details and the detailed changelog 
Mandatory questions for exercise/feedback
With Shika 1.3.15, we have added mandatory questions functionality for exercise and feedback lesson types. The mandatory questions are displayed along with an asterisk mark in the course.  Note that in the case of time-out situation, the test will be submitted even if mandatory questions are not attempted.
Subscription plan specific Coupons for course
With Shika 1.3.15, we support plan specific coupons. Refer the screenshot for your reference.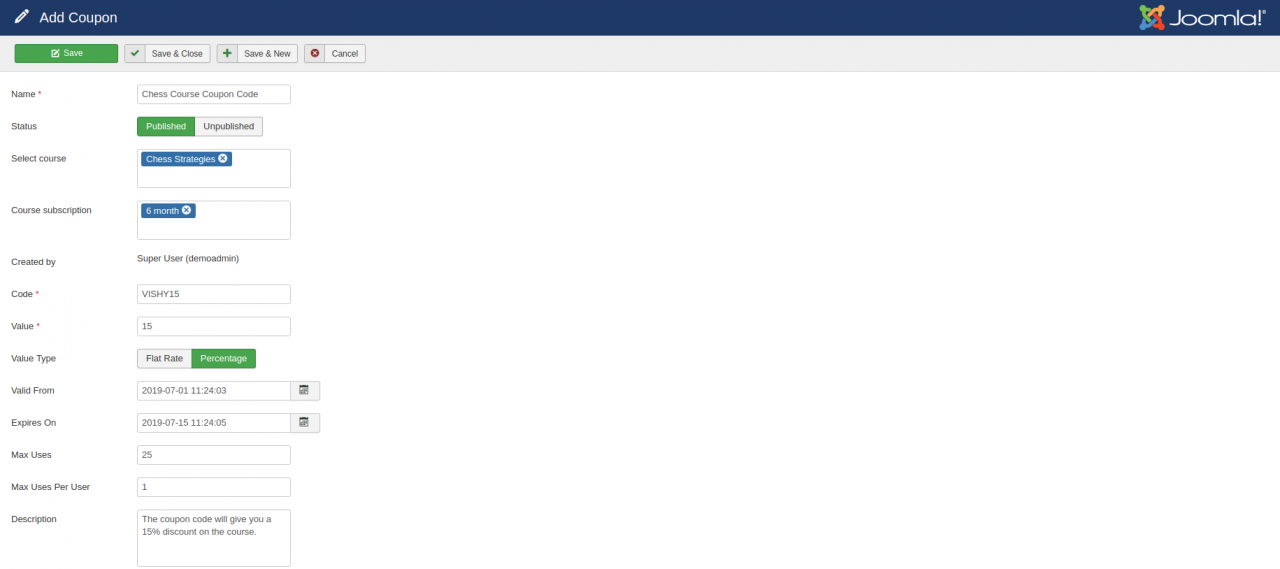 Configuration for hiding the quiz/exercise/feedback timer through configuration
We have added a new configuration where the site administrator can hide the feedback timer for quiz, exercise and feedback lesson types.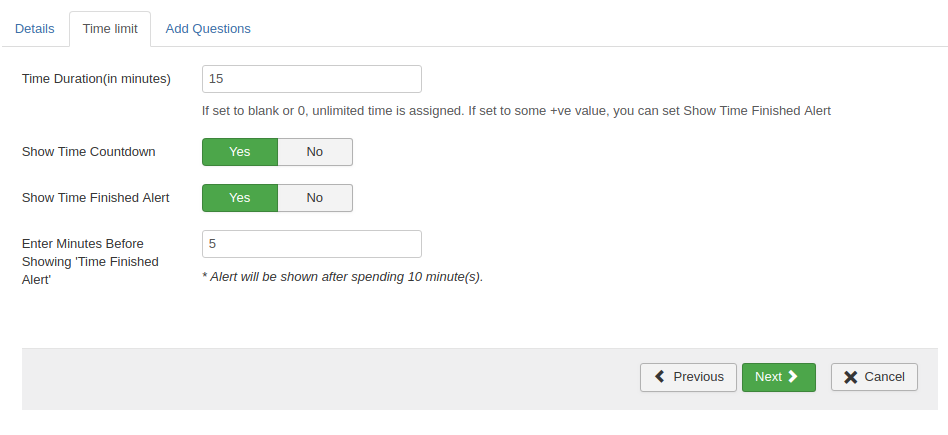 Send Email to course creator and Administrator after order confirmation
Our infrastructure extension, TJ Notifications just got better with this release. From this release onwards, a new order confirmation email is sent to both the site administrator and course creator after the order is confirmed. This feature was recommended by one of our subscribers.

UI improvements for Checkout, TOC, Invoice and Print Invoice views
We have also made a few UI improvements for the checkout, TOC, invoice and print invoice views. The new UI is sleek and responsive across all devices.
Changelog
+ Feature Added (5):
#​138006 Added Mandatory questions functionality in exercise/feedback
​#​146595 Subscription plan specific Coupons for course
​#146771​ Hide the quiz/exercise/feedback timer through configuration
​#​146478 New Email for course creator and Admin on after order placed successfully
​#​147082 Design Changes - Checkout, TOC, Invoice, Print Invoice
Bug Fixes(13):
#​#​131019 Front end>>Time is not getting tracked for Scorm lessons if Session out timing is less than the Lesson time
​#​146949 Front end > lessons pin view> Giving multiple notice's
​#​146569 Paid course report - The time showing incorrect under End Time column​
​#​146510 Template body getting blank on template de-selection from the list
​#​146284 In the report Date column should have date range option
​#​146197 Set goal - Label missing for the date fields
​#​145959 Admin panel>> Create question>> Answer tab is getting blank on the invalid file attachment
​#​145922 Manage enrollment>> Import > If an existing user updates then users Last Visit Date becomes Never
​#​144621 User assigned by Admin order email - There is some unknown content display in order details.
​#​143039 Login as manager>>Manage lesson>Getting error
​#​138448 Php 7.1>>Scorm upload>> unable to upload shows error
​#​135347 Back end > Attempts >Answer sheet> While downloading the file giving an error as 'You are not authorised to view this resource' in File upload type question
​#​129133 Youtube is not Auto Played and Resume Not Working