Invitex is up with its new release. Faster, better and with some cool new features added to its kitty helping you expand your network with ease.
What's new?
Bootstrap 3 support for Invitex
A lot of templates are adopting and moving towards bootstrap 3, we thought of making sure that all our extensions should also support it and with our other extensions Invitex joins the club.

Quick Invitations Module
Simplest manual invitations module Joomla has ever seen. Just put the email address you want to send invitation to and it is done.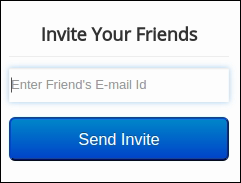 Only Allow registration for Invited Email Address
Introducing an option wherein only people who have been invited will be able to join the network with their email address.

SMS Horizon Plugin
Invitex already integrates with Clickatell for its SMS related functions. With this release Invitex will also be integrated with SMS Horizon for its SMS related functions like sending invitations via SMS etc.

Get your copy of Invitex now and grow your network faster.