Someone has rightly said, "A Picture is worth a thousand words". You can convey a lot through pictures. Creating content is not just about attracting traffic. You need to get them interested in reading your content.
When writing content for your website or blog for that matter anything, use of correct pictures can do wonders for you. When scanning through content, people don't read every word but good pictures will catch their attention and keep them riveted on your content.
However great though pictures are, its not always easy for anyone to create stunning graphics and you end up having to rely on your designer who might not always available when you need that blog or newsletter image urgently. This is when Canva steps into the rescue.
Canva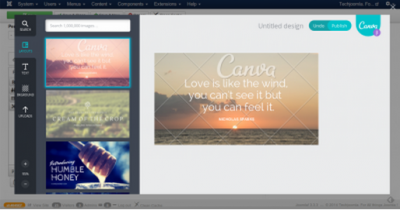 Canva is an awesome cloud service that lets you create a spectacular image with little or no design expertise. With its drop-dead good looks, super intuitive drag and drop designer, ability to use free as well as super cheap paid graphic elements including stock photos to create classy graphics, it's extremely powerful.
Canva makes design simple for everyone. You can design numerous types of creative images for your blog, landing pages, etc. Plenty of layouts, backgrounds, and fonts are available to make your design look what it should be.
Joomla and Canva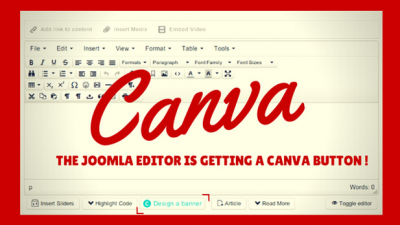 With the new Canva integration, we bring this powerful tool to Joomla. And yes its completely free and supports Joomla 2.5x as well as Joomla 3.x!
The current Canva integration is an Editor XTD plugin that adds a 'Design a Banner' button to your Joomla WYSIWYG editor. Since the plugin extends the editor, all extensions that use the editor including Joomla Content, Zoo, K2, EasyBlog, Quick2Cart, JGive, and so many others will automatically benefit from this plugin.
Watch it in Action!
Download Plugin Now!
We have released the Canva plugin as a free download. Go ahead & get it today!
Get the plugin for free here. 
Know more about Canva!