When I saw & used Canva the first time, it was love at first sight ! With its drop dead good looks, super intuitive drag & drop & ability to use free as well as super cheap paid graphic elements including stock photos to create classy graphics, it was extremely powerful.
To put it simply, Canva had me hooked
Believe me. I am no good at design. I mean i can appreciate good design & give inputs as to what might look good. But hey .. I am no designer. But my job does needs me to come up with graphics all the time. From blog images to newsletter headers & what not. If you can relate with that & don't want to avoid troubling your designer with every other request, then Canva is the tool you want !
The first thing that stuck me when I saw Canva was SocialAds. Wouldn't it be awesome to have a 'Banner Ad Designer' powered by canva to design images for Ads in SocialAds ? So i contacted Canva on twitter & they got back immediately with API access. During our discussions with Canva, we realised that Joomla in general as well as extensions like EasyBlog could benefit from a Canva integration. So thats what we decided to do first !
We have a nice Canva plugin coming for Joomla very soon followed by one for EasyBlog. In our upcoming releases of SocialAds, we shall also integrate Canva as a banner ad designer. Stay tuned for more updates & let us know what you think !
Update 19th August
Quick update to the original blog ! We have completed the Canva plugin for Joomla & since its a editor xtd plugin it also works with EasyBlog & a whole lot of other extensions using the Joomla Editor ! We are planning tighter integrations with EasyBlog to use images as blog images etc. However that will happen once the Canva team completes its review of the plugin & gives us an OK to publish.
Here's a few screenshots to help you wait till we get this out !
The Editor Button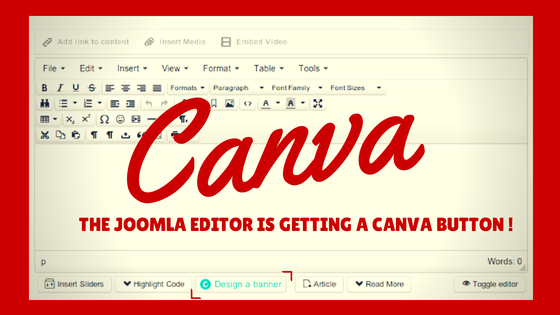 Canva Launched & ready to go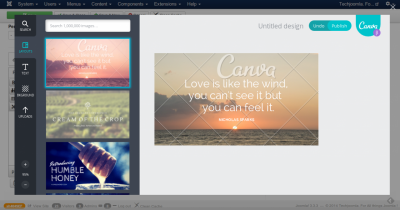 Video to see it in action
Update 3rd September
Canva Plugin for Joomla released ! Details here : http://techjoomla.com/blog/canva/let-your-images-speak-for-you-with-canva-plugin-for-joomla-by-techjoomla.html