We are happy to release SocialAds 4.0.2 with the much awaited HTML5 Ads support. Besides this, one can easily create copies of existing ads from both frontend as well as backend. We have introduced an option to select the device on which Ad will be displayed (mobile OR desktop OR Both). A new configuration has been added to configure user groups who can create unlimited ads. Besides this, we have also fixed many bugs reported by our subscribers in this release.
Read on for the detailed changelog for new features, bug fixes and important notes related to this release.
Features
HTML5 Ads support
With SocialAds 4.0.2, we have introduced support for HTML5 ads. HTML5 rich media ads help to drive engagement, boost creativity and improve click through rates. Animated HTML5 ads optimize performance and are suitable for all devices and browsers.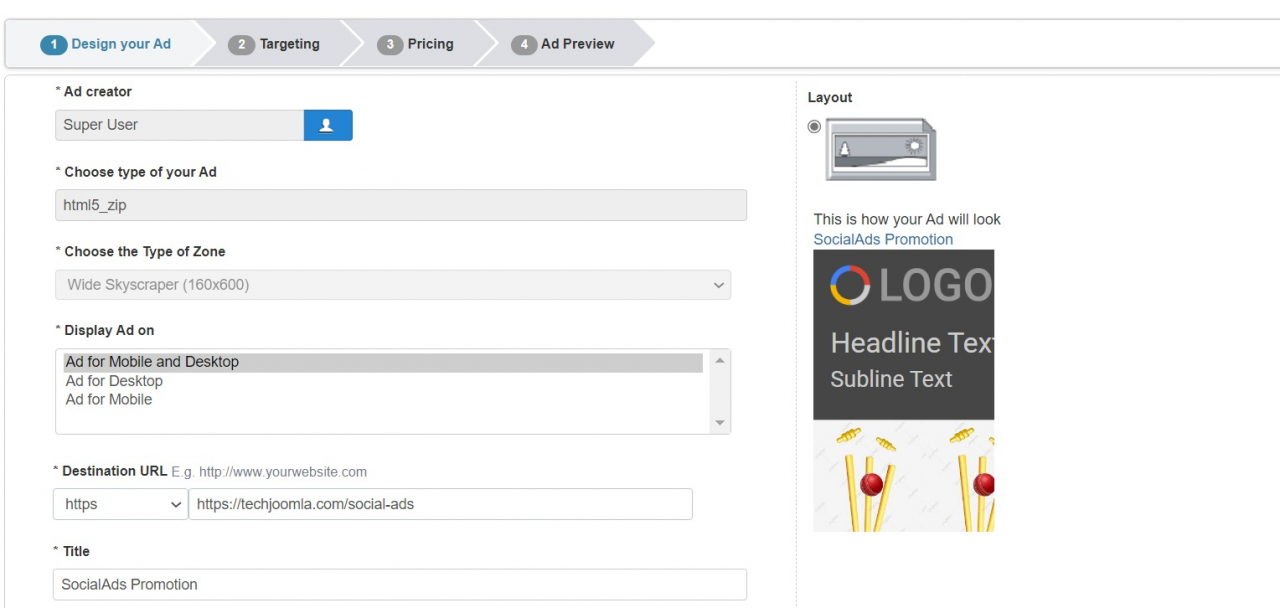 Create a copy of existing Ad from frontend and backend
Easily create a copy of existing ad from frontend and backend in SocialAds. This feature helps you save time and create a copy of any high performing ad that can be tweaked and used for any other campaign.
Please note that
1) Copy of Ads can be created for all the Ads in wallet mode.
2) Ads with unlimited options can only be copied in Pay per Ad mode.

Option to select the device on which Ad will be displayed
With SocialAds 4.0.2, we have provided the flexibility to choose the device on which the ad will be displayed. Ads can be displayed on Desktop as well as mobile or either of them.

Configuration to config user groups who can create unlimited Ads in the backend
User groups that have been assigned to create unlimited ads can do so without any payments. Ads are shown with the same priority as normal paid ads.

Changelog
+ Features: (4)
Feature #158906: HTML5 Ads support
Feature #181946: Feature to create a copy of existing Ads from frontend and backend
Feature #183115: Option to select the device on which Ad will be displayed (mobile OR desktop OR Both)
Feature #182997: Configuration to config user groups who can create unlimited Ads
^ Bugs Fixed: (5)
Bug #182357: Video Ads are not working
Bug #182998: Add more balance for pay per day Ad is not working
Bug #183789: By default registered user group users are not able to create the Ads
Bug #183790: Some Order data is not deleted when an Ad is deleted
Bug #183791: CLI not working for Archive stats in Joomla 4 (Create two plugins for CLI command for Joomla 4 i.e: Social Ads - Archive Stats and Social Ads - Stats Email)