It has been a really long time since a SocialAds release. You all might want to ask, "What took it so long?"
Well, we have been working on a major rewrite of the extension and we're almost there. Apart from a simple, cleaner code and an amazingly fast working SocialAds...
This is what you can expect!
Backend Dashboard
Admin will be effectively able to monitor the income, Ads, Click to Impression ratio and more!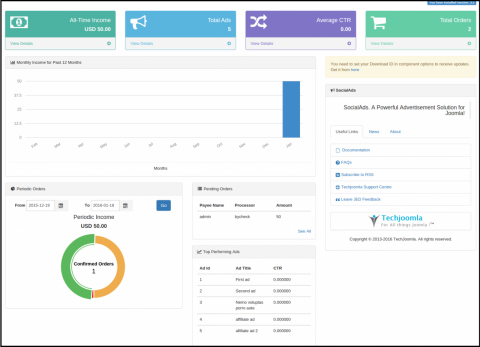 Different tables for wallet orders and Pay per ad order
Earlier Admin had no choice but to see Wallet and Pay Per Ad orders in the same view. Just to make is simple and segregated now we have introduced two separate views for them.
Backend Wallets Order list view
Admin will get a bird's eye view of all orders in the wallet with respect to the advertiser. Also, he will be able to change the status of the order from this view (pending/ confirmed/etc.) We have also added a smilar view for Pay Per Ad

Wallet details for admin
With this view admin will be able to see all the wallets of every advertiser.

Wallet Transaction view
After clicking on the "View Transaction" link of the wallet details view you will be redirected to the wallet transaction of that advertiser, in which all the details related to the transaction will be displayed.
For wallet mode - Campaign list and form view
Admin now has the liberty to create an Ad campaign from the backend for the advertiser.

Invoice view
Admin soon will be able to see the Invoice for the ad payments that the advertiser makes. Earlier the Invoice was used to be sent in emails to the advertiser.
Frontend Dashboard
A new Dashboard specially for advertisers. They will be able to see Active, Inactive ads, Click to impression ratio, wallet balance and more..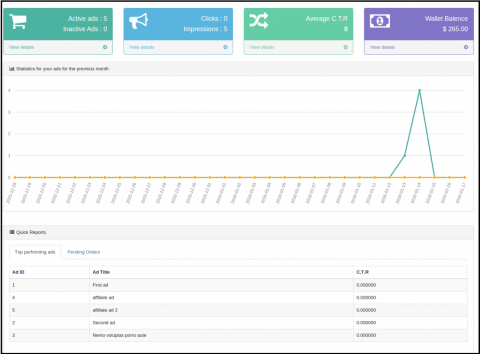 My orders view for Advertiser
With this view Advertisers will be able to keep a track of all their orders and their status.

This is not all! Wait for some awesome surprises, till the release of SocialAds 3.1. Still a lot to be unveiled.
Renew before your subscription expires and get a special discount!