We are pleased to announce the availability to SocialAds Alpha 2 for testing. This is another step towards a awesome new stable release for SocialAds. This release Ads a couple of new features from Alpha I & has several bug fixes & stability improvements.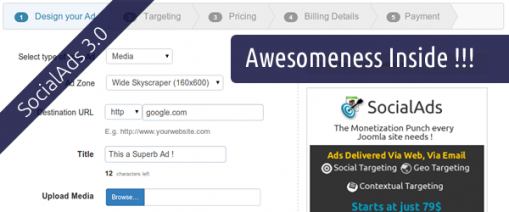 The Main Features added in this Alpha are Admin Ad creation & Backend ACL for SocialAds. Now as of Alpha 2 the release is feature complete as per the SocialAds 3.0 Roadmap. We will now be concentrating on doing all round improvements in the release for UI/UX , Bug fixes & Stability improvements.
So your input now is critical. Please help us test this release & file your bugs ! Thank you all who have contributed in testing so far ! Please read on for the full change log including Alpha 1 & Alpha 2.
You can download the release from the My Subscriptions area. To report bugs, head for the forum & post your comments.
What to Expect from the Alpha
- Works on Joomla 2.5.x & Joomla 3.2.x
- This alpha release may differ from the upcoming stable product.
- This is an early alpha with some known issues
- Please do not install it on your live site.
- You are advised to use & test this on development sites.
CHANGE LOG FOR V3.0 ALPHA 2

+ FEATURES ADDED
Feature #26693: Allow admin to create an ad in backend
Feature #15393: Basic ACL for SocilaAds
CHANGE LOG FOR V3.0 ALPHA 1

+ FEATURES ADDED
Feature #17621: Ads caching
Feature #21645: Invoicing for SA
Feature #21653: MultiSite Ad Delivery
Feature #21726: Tabbed Bootrapped Create Ad Creation Wizard Interface
Feature #26419: tax handling in SA
Feature #26691: user data caching for Ad display