It gives us great pleasure to announce the stable release of Quick2Cart v2.1. The most exciting feature in this release is support for Downloadable Products which has been a feature that users have been requesting for quite some time now. Whats more, you can also offer a free sample download if you wish !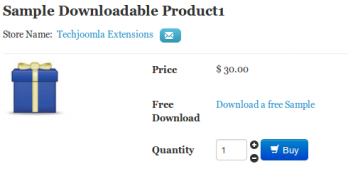 The second feature is the introduction of PayPal adaptive payments for Quick2Cart. This feature is an awesome value add if you are using Quick2Cart in multi vendor mode & have to deal with the hassle of manually managing payouts. Adaptive payments can automate this for you !
Besides this there have lots of small improvements in the usability & quite a few small features have been added. Some of them are the option to have a mini Add to Cart popup instead of the big one, Color coding for order statuses & introduction of an SKU field when adding products. A new Merchandise sales report has also been added with the option to export it as a CSV.
What are you waiting for ? Download the release right away from the My Subscriptions area. Or if you don't have it yet, Buy Now ! Starts at just $29.99 !
To see the full details of what has changed in this release, please read on to view the complete changelog.
Changelog

for v2

.

1

+ Features added
Feature #25191: paid e-product download support
Feature #21512: Direct payments to vendors and commission

share

to Admins via PayPal Adaptive
Feature #25957: mini add2cart popup on buy now
Feature #21480:

compo

config to define

format

of amount display
Feature #15931: Use color coding for order status
Feature #20240: add terms and condition check on checkout
Feature #23173: add

sku field

for all CCK products
Feature #23778: Merchandise sales report with CSV export
Feature #24982:

jQuery

validation on

checkout form

Feature #25035: Add middle name field

for

checkout form
Feature #25078:

create store

related coupon in admin side when Multivendor is ON