Isn't it a great feeling when you are rewarded and recognised when you complete a milestone or a goal? Online courses are no different. In fact, for online courses, recognition is even more important as they lack the physical touch points and personal motivation that is usually part of 'In Person' learning.  Low completion rates are the biggest bane of online learning. Rewards and recognition is a great way to fight this.
Personalised certificates are just one of the many features that Shika offers to let you reward your users.
A certificate is much more than a piece of paper. It is a recognition of one's work and gives a sense of entitlement.They are a great way to showcase your achievements & add to one's academic and work profile.
Read on for the detailed features.
Shika allows you to easily create multiple certificate templates and they can be completely personalised using a variety of replacement tags.
Besides core tags, Shika also lets you use EasySocial & JomSocial fields as personalisation tags.
Besides this, you can also you can select the certificate template pdf orientation-Portrait or landscape view for your certificate as well as the paper size.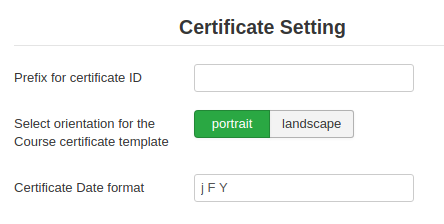 With so many customisation options, creating rich personalised certificates with Shika is super easy and fun. Here's quick look at the certification features Shika offers & some screenshots related to the same.
Certificate manager
Now create multiple certificate templates and choose which template you want to use when you create a new course.
Unique Certificate ID per certificate
Another important aspect of certificates is their authenticity. Each certificate that is awarded gets a unique Certificate code. We will soon be adding functionality which allows users to independently verify awarded certificates using this ID.
Certificate expiry
While creating a course you can now also set a certificate expiry after which the certificate becomes invalid. Both this and unique certificate id feature are extremely useful if you are doing CPD (Certified Professional Development) type courses which expire after a certain period of time.
Support for Easysocial and Jomsocial Fields in the Certificate
Personalize your certificate by selecting EasySocial and JomSocial fields in your certificate template.