We are happy to bring you a brand new major release of our events solution. Since the onset of the COVID-19 pandemic, online events have gained significance. This release brings support for running online events using Zoom as well as Jitsi, the free & opensource conferencing solution to help you run events remotely. Besides this the release also brings social sharing for certificates & the ability to restrict ticket purchase for users for selected access levels and several improvements including a complete refactor of the Adobe connect integration & integration with the latest TJ Fields release.
Buy JTicketing View the Updated JTicketing demo
We encourage you to upgrade as soon as possible!  Read on for the details and for the complete changelog. 
Features
Jitsi integration for online Jitsi meetings
At Techjoomla we value opensource a lot and wanted to bring a completely opensource Online meetings solution to Joomla. We are very happy to announce that with the Jitsi integration this dream is now a reality! JTicketing is the first Joomla ticketing solution to introduce this feature. Easily create and manage Jitsi meetings with all the JTicketing online event management perks. 
You can integrate Jticketing with the freely hosted Jitsi Meet or host your own instance of Jitsi. If you need help setting your own Jitsi servers you can contact us for a quote. 
Zoom integration for online meetings and webinars
With this release, we have integrated JTicketing with Zoom, perhaps the most popular platform for teleconferencing, telecommuting, social interactions and distance education. 
Event creators can now sell tickets for their Zoom meetings and webinars with JTicketing or even enroll attendees for free.  
Public Certificates with Social Sharing 
This release brings in improvements in our infrastructure extension TJ Certificates. Now certificates have sharable public links which can also be shared on social networks like  LinkedIn, Twitter and Facebook. The public page allows attendees to share their certificates which can be verified. The Certificate can also be added in Linkedin's 'Licenses & Certifications' section. 
The public certificate page also has a widget to show the event information which is a great way to promote your events to your attendee networks!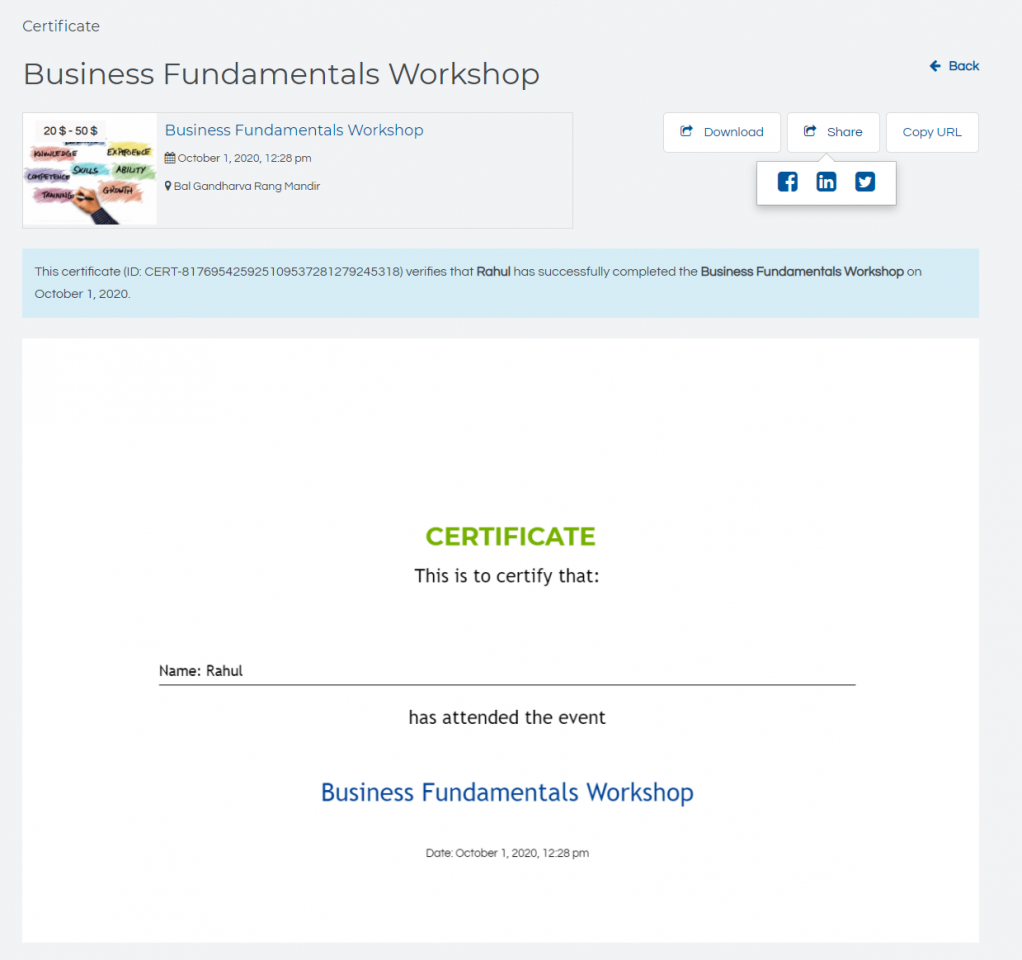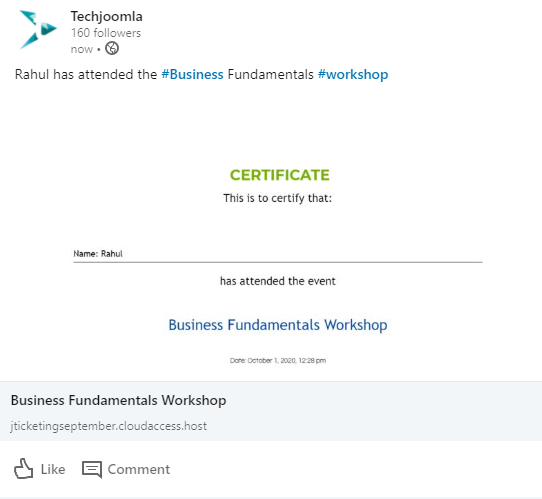 Restrict ticket purchase for users for selected access levels
In JTicketing, earlier we had a functionality where only users with the selected access level were able to book the tickets. Now we have introduced an exact opposite functionality where users with selected access levels are restricted from booking the ticket.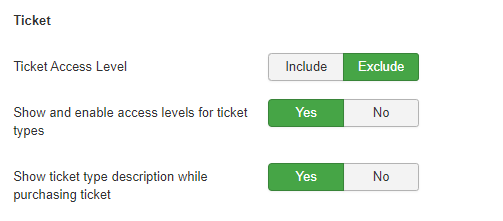 Complete Changelog
Features (5) -
Feature #164322 JTicketing Jitsi Integration
Feature #161210 JTicketing Adobe Connect Integration Refactor
Feature #159763 JTicketing Zoom Integration
Feature #164875 Enabling Certificate social sharing - TJCertificate compatibility upgrade
Feature #163393 User with the selected access will not able to purchase tickets
Feature #153430 TJField compatibility upgrade
- Bugs (20) -
Bug #165237 Frontend > Error \Your order amount is recently changed and it is no longer valid order please reinitialize your order.\" occurred on proceed checkout button click"
Bug #164448 Free ticket purchase with the registered user getting the wrong country on the invoice.
Bug #164250 Online event - If booking time end - the user get a close meeting instead of Enter meeting
Bug #164187 Duplicate Event > Original event image getting cleared on changing the duplicated event image
Bug #163802 Easysocial > Frontend > Book Ticket > Notices displayed on the page
Bug #163798 Jomsocial > Frontend > Ticket access level include & exclude validations should work as native
Bug #163795 Easysocial > Frontend > Ticket access level include & exclude validations should work as native
Bug #163770 Easysocial > Frontend > Create Event > Enable ticketing section displayed twice
Bug #163701 Frontend > Book Ticket > Users other than selected user group are able to book a ticket when access to selected user group set as Include
Bug #163659 Frontend > Online Event > View Recording > User is not able to view a recording of the event after event end date and time
Bug #163618 Front Panel>> Event pin view>> Choose price filter>> show db error
Bug #163485 Frontend > Events detail page > Resources > The lessons which are unpublished/trashed in between should display to the user to know the no. of attempts for that lessons
Bug #163444 Backend > Sales Report > Add clear filter button and Event filter should display above the table
Bug #163247 Frontend >'Pay Now' & 'Prev' button hides, if user is returning back to 'choose payment gateway' page from 'PayPal sandbox' page
Bug #162828 Backend > TJ Event Fields > While creating the 'Textarea' type of field, 'Rows' & 'Columns' fields should display as required
Bug #162605 PayU payment gateway is not working
Bug #161352 Notices displayed on the frontend
Bug #160399 Online event - Existing event selection issue
Bug #159929 JTicketing Configurations - Social Integrations - Correct spelling mistakes - check the description for more details
Bug #159928 Configurations - Social Integrations - Integration options should be aligned properly in-front of 'Activity stream integration with' field