1 minute reading time
(193 words)
JMailAlerts V2.5 with Joomla 3.x support and Guest Alert Subscriptions is here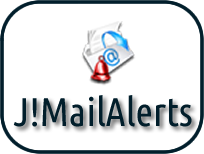 We are super excited to announce the immediate availability of J!MailAlerts v2.5 which comes with the much awaited Guest Alerts & Joomla 3.0 Support. Note that Joomla 1.5 support is dropped from this release onwards.
With an awesome bootstrapped UI, Ability to create your own frequencies & much more, this release is sure to blow you away !


Download the Extension for Free today !
All plugins - both paid & free are updated as well. Read on to see the full changelog. Also note that upgrading this version has special instructions that you can see when you Read More..

CHANGELOG FOR V2.5
Joomla 2.5.x - 3.x compatability
Dropped support for joomla 1.5.x
Create your own frequencies
Define batch sizes for each alert separately
New sync view with stats
Guest alerts subscriptions
Installation notes for version 2.5 -
A clean installation is recommended
- backup your email existing JMA alert templates [optional]
- uninstall JMailAlerts component older version [no need to uninstall plugins]
- install latest JMA 2.5 version
- configure component options
- install plugins with version 2.5
- configure all plugins
- create frequencies
- create alerts
- sync
- simulate
Stay Informed
When you subscribe to the blog, we will send you an e-mail when there are new updates on the site so you wouldn't miss them.