1 minute reading time
(199 words)
RoadMap for JBolo! 2013-14. See whats coming up !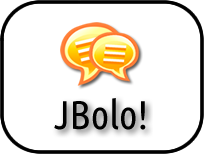 Ahoy there All your Joomla peeps !  The Roadmap for one of our most popular extensions J!Bolo is now available :) We regularly maintain our extensions & keep adding new features to  periodically. Features are based on our users feedback on the forums, via Tickets, email & Social Channels. Do Comment on this article & give us your Feedback. Your inputs shall be considered in order to convert this Draft roadmap to a frozen one. 

 Version 3.0: Expected release - June 2013 ( Features Freezed)
Compatibility with Joomla 3.x 

Drop support for Joomla 1.5.x

Group chat 

Gravatar integration

All new admin dashboard
 Version 3.1: Expected release - September 2013
Group chat bookmarking

Developer API for group-chat creation

File uploading from chat window itself

Media previews in chatwindows for image/video/audio files

More smileys/ animated/sprite support

Akeeba tickets integration

More optimised and light weighted chat

ARS base update

SUBSCRIBER CONNECT FEATURE
Version 3.2: Expected release - December 2013
Chatrooms

Better and easier file uploading inside chat window itself

Off the record setting option

Introduction of one new theme

SUBSCRIBER CONNECT FEATURE
Version 3.3: Expected release - March 2014
Guest chat / live chat support

Growl notifications

Introduction of one new theme

Admin chat monitoring
Stay Informed
When you subscribe to the blog, we will send you an e-mail when there are new updates on the site so you wouldn't miss them.