We are glad to announce the release of jLike ! The supremely flexible & extendible likes dislikes system for Joomla !
After we acquired jomLike & jomGive from our friends at CorePHP last August, we had promised both existing subscribers as well as our customers of exciting & ground breaking changes & features to both the extensions. With the release of jLike 1.0, we have rewritten the entire code base to add some really awesome features & many many new extension integrations.
jLike! is a powerful new component, module and plugin for your Joomla website & it Packs a ton of features & lots of power under the hood. Whether its a Universal sitewide Like system or a full fledged internal Social Bookmarking tool like Digg or Delicious with ability categorize likes & add notes to content !
Current jomLike users get a free upgrade to jLike of course ! So if you have an active subscriptions, hurry to the my Subscriptions area to download it today ! If you are not using jLike yet, this is a must have for any Joomla site !
Buy jLike today & get a launch discount of 10% !
Use the code ILOVJLIKE to get 10% off on your purchase of jLike . Offer expires at 12 PM IST , Monday.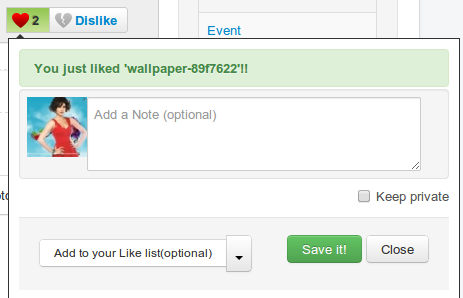 Quick Look at the Most important features of jLike
Core features:
Core like/dislike functionality with integrations with over 20 extensions 
Users can add private or public notes against content
Content that you like can be added to your own "Like Lists" or Labelled for better organisation
An Awesome 'People Who have liked' display features avatars or users who have likes the content
An All Site Likes view with a a great Like Activity Dashboard with a graph to show off the like activity on your site
My Likes & Notes view to see all your Likes & Notes & filter by Content types & Lists.
Native Joomla MVC
Supports Joomla 2.5 & 3.0
Extend to any extension you want with a Super easy developer API
Activity Stream integrations with CB & JomSocial
Tons of Extension Integrations ( See list below )
Modules to show Most Liked Content & recently liked content
Checkout Screenshots & Details of the great Features on the New product landing page !
jLike Integrations available
Joomla Articles
Flexicontent
K2
SOBIPro
Zoo
Easy blog
Easy discuss
JComments
Kommento
Kunena
Jomsocial (only for profiles, groups, events & videos)
HikaShop
Red shop
Virtue mart
JEvents
jGive
Social Ads
Phoca Gallery