1 minute reading time
(255 words)
JGive 2.3.4 security, bugs & improvements release
This release fixes a security issue found in our internal testing and also introduces some feature improvements and bug fixes. We encourage you to upgrade to this release as soon as possible. 
Read on for the detailed features and complete changelog.
New Donation Receipt UI 
A fresh new design for donation receipts moves from a tabular format to an improved layout.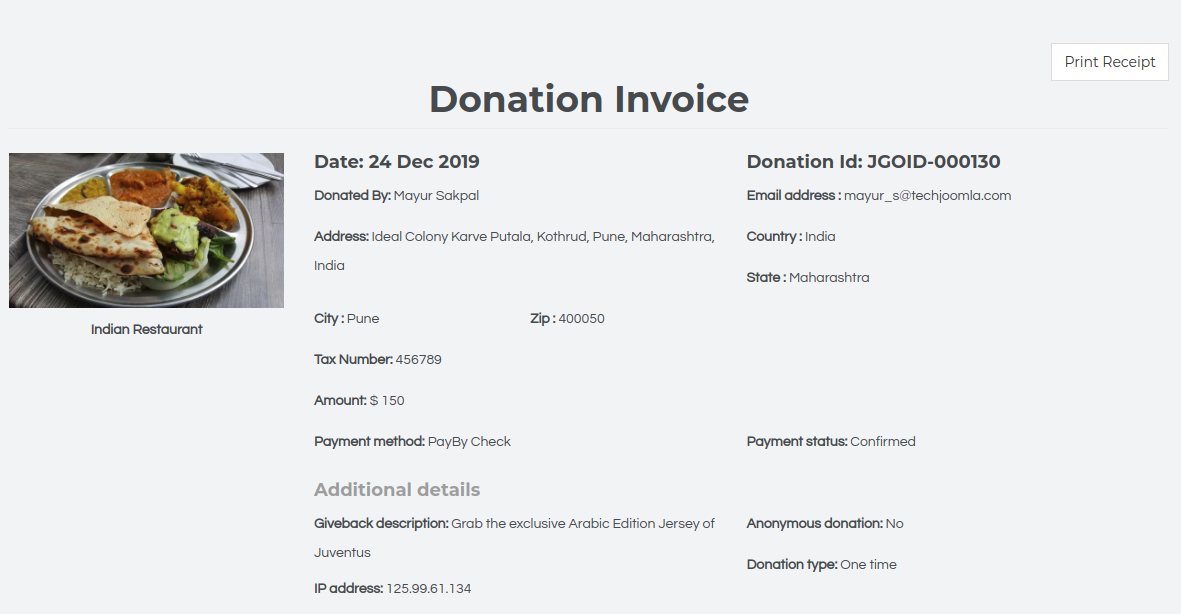 Title for Givebacks
In addition to the Giveback description, you can now specify a short give back title for your givebacks. 
Added support for upgrading email templates tags
Introduces new email tags in notifications like campaign status and payment donation type 
Changelog
 Feature Added (3):
#150915: Improved donation detail (Invoice) page UI
#150398: Added support for Givebacks title
#153326: Added support for upgrading email templates tags
Improvements (2):
#153227: Added campaign type name on the campaign list
#140863: Improved Campaign form page load time
Bug Fixes (7):
#153712: Fixed configuration issue: now JGive will look nice on Bootstrap 2 templates as well (We recommend using bootstrap 3)
#153441: Campaign Owner can Invite friends/contacts from the Campaign detail
#126086: Show own Campaign's in select Campaign filter on My Campaign Donors
#151434: Showing detailed error messages in case of donation failure
#153127: Improved email templates by adding new & updating old tags
#154571: Show only available Givebacks on the Donation form
#153232: Fixed vulnerability issue(create campaign and donation form page)
Related Posts