1 minute reading time
(258 words)
JBolo! A Chatting Extension for Joomla!
 JBolo! is a really cool extension that will integrate Facebook & Gmail like chat into Joomla Websites.

 The name JBolo! is derived from the  Hindi word 'Bolo' which means to talk.   Based on the Gmail/Facebook Style jQuery Chat Script by Anant Garg,  this application promises to be an exciting thing for Social Networks in Joomla.

 The extension comes with a component & module.

 The expected Release date is 20th July 09.

 Read on for full feature list.
Features in First Release:
- Integrates Seamlessly with Plain Joomla,  Community Builder or JomSocial.
- Module Supports Showing All online users/ Only Friends.
- Automatic Purging of Chat Database is supported via Cron Support.
- Gmail style bottom right display of chat boxes.
- Keeps chat boxes open and stores state (data) even when pages are browsed/refreshed similar to Facebook.
- Displays "Sent at…" after 3 minutes of inactivity.
- Displays "X says…" & blinks chat boxes when the window is not in focus.
- Minimize and close chat boxes.


Features Planned in future releases:
- Chat History.
- Block User.
- Status ( Chat Status ) Option to append JS or CB status message to chat status.
- Options to Always Show/Not show in chat list.
- Front-end drop down to chose to show all users or only Contacts.
- Contacts - Sorting by CB Connection type/ JS Connection Type.
- Search ( Ajax Auto Suggest box for searching users)- make it work the way Gmail does.
- Offline chats & Email alerts when an offline chat is received.
Screenshots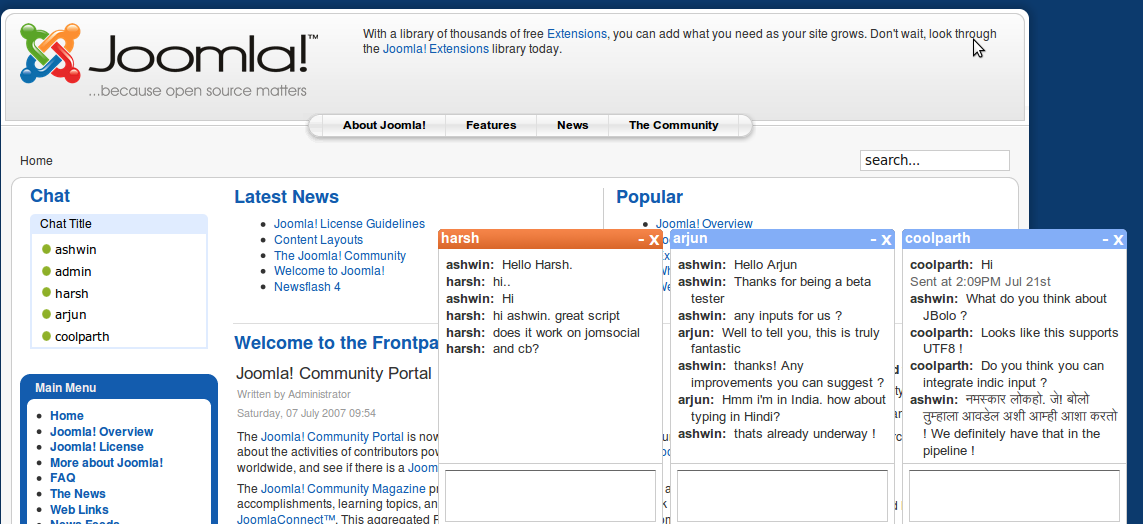 Stay Informed
When you subscribe to the blog, we will send you an e-mail when there are new updates on the site so you wouldn't miss them.