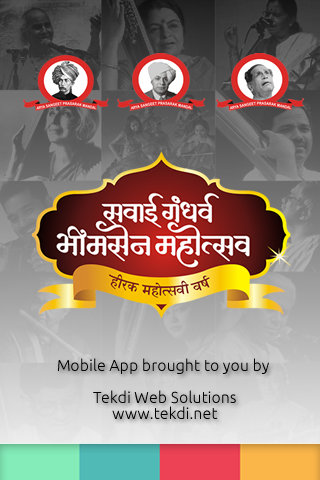 The Sawai Gandharva Music Festival of Pune, which is celebrating its golden jubilee in December 2012, is without doubt one of the most important events held in Pune.
Since last year, we had felt the need for a Phone application to make it easy to get information about the event. As soon as we got the blessings of the organisers, the Mobile development team at our company, Tekdi Web Solutions got together to develop this application & release it in record time !
With the release of the Smartphone Application for Android phones, Tekdi Web Solutions has brought information about the event at the fingertips of connoisseurs. All information about the event like Daily Schedules, Artist Profiles, Location maps etc is easily accessed via this app.
This app is our small contribution to this magnificent event that forms the very core of Pune's culture. Dedicated to Pune's Music lovers , we hope it makes their experience of the event even more enjoyable !
The Android application is available for free download on the Google Play Store. For users of Apple IPad,IPhone & Blackberry, a Mobile web version is available here sawai2012.tekdi.net
To know more about our App development services, visit http://apps.tekdi.net/ 
App Name : Sawai 2012
Play store URL : http://goo.gl/Rv5tx