Hello *|FNAME|* !
Techjoomla is committed to help your get the maximum out of our products. In case of SocialAds, it literally means helping you earn the most you can from your website !
Today I got an email promotion from LinkedIn, inviting me a 50$ coupon to advertise there. A Pretty impressive email it was too, it got me converted :)
I thought i'd share the same with you. Did you know that you do can also do Promotions like this on your site if you are using SocialAds ?

If you havent Kick Started with Advertising on your site yet OR its not rolling in as much Cash as it potentially could, probably its a good idea to get a Campaign of your own started ?
Worry not ! We have got it all figured out for you ! Head over to our blog to learn how to make the most awesome promotion coupons. Plus we have an awesome campaign email sample ready for you to pick up & start using too :) . What are you waiting for ? Send that Campaign today !
Read on for the Full Blog " Promoting Advertising on your Site with Coupons & Email Campaings" Now !
Creating a New Promotion Coupon
SocialAds comes packed with the most flexible Coupon manager.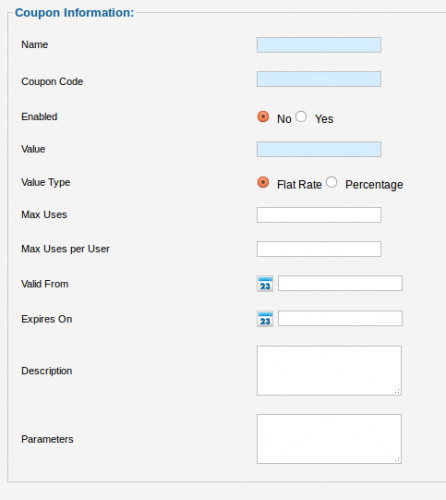 Making your own coupons is a breeze with the SocialAds coupon manager. Inspired from Tienda, the coupon manager is very flexible in letting you configure your coupons.
To start with Give your Coupon a name (For internal use ) & a Coupon Code & set it to enabled.
Next, decide the value & value type of the promotion coupon. If you want to do a set value coupon like LinkedIn of Google Adwords does, then set this to 50/100 or whichever amount you want to give as free starting credits & set the value type to be a Flat Value.
You can also go a little further & make your campaign even more interesting. You can set the Maximum number of users that can use the coupon. So to make a Campaign like "First 5 Advertisors will get 100$ worth of free Advertising" , you can set this value to 5.
Whats more, you can also let the user use the coupon multple times if you are feeling really generous.
And finally you can set the Coupon Validity dates to maximise conversion in a short timeframe.
Easy wasnt it ?
Creating the Campaign to Promote Advertising on your site. Sample content !
To get users to advertise on your site, its always a good idea to brag about the Cool Advertising system you have on your site ;) ( P.S. We hope its SocialAds ! )
Here's some awesome content (Inspired from LinkedIn but based on SocialAds ) for you to help do that !
---
Your customers await you at http://myawesomesite.com !
Hello [NAME]

Did you know that [my_site] has over [no_users] active users from the Washington DC area ? Change this content to reflect your site. If you run a vertical specific website, this could go like "Users Interested in Photography" etc. You can also add a 'Geo Targeted touch to it like LinkedIn

| | | | | |
| --- | --- | --- | --- | --- |
| | | | +10M | Some Geo Specific content could go here if you have the ability to do a Geo Targeted Email |

69%
42%
20%
44%

Put Some Cool Stats about your Website Here !

Put Some Cool Stats about your Website Here !

Put Some Cool Stats about your Website Here !

Put Some Cool Stats about your Website Here !

Find exactly the customers you are looking for.

Define your audience of interest with Social Targeting: Target members based on job title, geography, industry, seniority or even membership of specific Groups.
Define your audience by Location with Geolocation Targeting: Have a Business thats highly local ? Use Geo Targeting to show Ads only to people in your area !
Onsite & Email Ads: Your ads will be placed on highly visible pages on [mysite] as well any various emails sent out by the site.
Multiple Payment Options : You decide to Pay per click, Pay per impression or by the Day. Take full control of your Ads. No long-term contracts. No commitments.
Reporting Dashbpoard : Detailed reporting with nifty graphs & Statistics. See how your Ads are performing at a click !

Your USD $50 free advertising offer expires April 11 2012
And with this $50 offer, it's easier than ever for you to try [mysite] Ads for free. No obligation. No risk. Enter the following code along with your billing information
Promo Code:DHDJD-9393-DJDD
Your customers are on [my_site]. Find them with [my_site] Ads.

Offer Expiration: You must use the code before the expiration deadline of 11:59 p.m. Pacific time on April 11 2012
---
The Original Content if you want it..
Your customers await you at http://myawesomesite.com !
Hello [NAME]

Did you know that [my_site] has over [no_users] active users from the Washington DC area ? Change this content to reflect your site. If you run a vertical specific website, this could go like "Users Interested in Photography" etc. You can also add a 'Geo Targeted touch to it like LinkedIn

| | | | | |
| --- | --- | --- | --- | --- |
| | | | +10M | Some Geo Specific content could go here if you have the ability to do a Geo Targeted Email |

69%
42%
20%
44%

Put Some Cool Stats about your Website Here !

Put Some Cool Stats about your Website Here !

Put Some Cool Stats about your Website Here !

Put Some Cool Stats about your Website Here !

Find exactly the customers you are looking for.

Define your audience of interest with Social Targeting: Target members based on job title, geography, industry, seniority or even membership of specific Groups.
Define your audience by Location with Geolocation Targeting: Have a Business thats highly local ? Use Geo Targeting to show Ads only to people in your area !
Onsite & Email Ads: Your ads will be placed on highly visible pages on [mysite] as well any various emails sent out by the site.
Multiple Payment Options : You decide to Pay per click, Pay per impression or by the Day. Take full control of your Ads. No long-term contracts. No commitments.
Reporting Dashbpoard : Detailed reporting with nifty graphs & Statistics. See how your Ads are performing at a click !

Your USD $50 free advertising offer expires April 11 2012
And with this $50 offer, it's easier than ever for you to try [mysite] Ads for free. No obligation. No risk. Enter the following code along with your billing information
Promo Code:DHDJD-9393-DJDD
Your customers are on [my_site]. Find them with [my_site] Ads.

Offer Expiration: You must use the code before the expiration deadline of 11:59 p.m. Pacific time on April 11 2012
---