Socialads 3.0 is here to start another revolution in Joomla Advertising. With SocialAds we have always tried to push the boundaries of Joomla Advertising. This release is no different.
Our kick off meeting set a clear vision for our team for the SocialAds 3.0 release.
Maximizing Advertising Real Estate , Enhanced User Experience & Unmatched performance.
This & the immense feedback we have received from the community went into the recipe of what was to become a pretty power packed release for us. We hope you will agree that we have done this vision justice in this release !
Multi Site Ad Delivery, Ad Rotation, A brand new integrated Ad creation & checkout wizard, Tight EasySocial Integration, are just a few of the awesome features in this release . Read on for the full blog post for complete details of this release !
The release is available with immediate effect to all existing subscribers.
Not Using SocialAds Yet ?
If you are not using SocialAds on your site yet, we invite you to start today ! We are specially extending our 'No Questions Asked Money back policy' to 30 days for everyone who buys SocialAds in the next 15 days. This is one extension you can't afford not to have on your site if you offer any kind of advertising. So take this chance & make the switch now !
Checkout our Demos & Screenshots
Joomla Demo JomSocial Demo EasySocial Demo Screenshots
So What All is new in SocialAds 3.0 ?
MultiSite Ad Delivery
With this feature you can serve Ads to any Website - HTML, Joomla, Wordpress, ASP or whatever else ! We provide a platform agnostic HTML/JS widget for every zone which you can use to place on any of the sites where you wish to deliver Ads to. Multiply your salable advertising real estate by many times with this awesome feature !
What's more, Ads delivered to remote Zones are not just random ones but they can be targeted Ads too ! Our widget generator lets you customise the widget in many ways. If you are a developer, you can take this to the next level by providing additional content for targeting from the client site to further improve accuracy. Read our detailed documentation on how to use Multi site ad delivery for more details.
Ajax Ad Rotation
With the new Ad rotation feature, you can show more ads per square feet ! Advertising real estate on your site is limited and this obviously affects how much you can earn from the same. With Ajaxed Ad rotation you can increase your effective salable area thus boosting your revenues. This feature also works with Multi site delivery. So your Ad widgets on partner sites will also be able to show additional ads in the same area.
EasySocial Integration
Along with integrations for CB & JomSocial now you have the choice to use EasySocial fields for demographic targeting. We also have a special targeting plugin for EasySocial profile types. Plus a promote plugin for ES Profiles makes it a breeze to advertise your ES Profile via an Ad on the site. If you haven't started monetizing your Social network yet, SocialAds is one extension can't afford to miss ! Read More in our special documentation for EasySocial users to monetize their Social Network.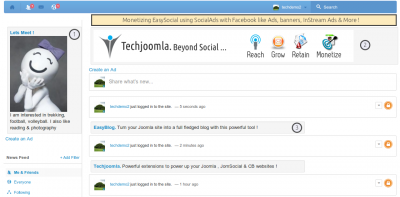 Backend Ad Creation/Editing
A much sought after feature, admins can now rejoice ! It is now possible to manage & create Ads on behalf of users from the site backend. So if you prefer not to offer self service advertising to your advertisers or if they expect you to do it from them, you should be all set !
Joomla based update support
With SocialAds we have started rolling out support for the native Joomla update system. This will be the first extension to have that & new releases from now on for other extensions will also get this feature. With Joomla Updates, you get the flexibility to update to the latest version of your extensions with just one click.
Performance Improvements with User & Ad & ad data Caching
Showing accurate Ads to users can potentially be a taxing operation when you have many Ads showing. This version of SocialAds introduces many new improvements in the Ad & User Caching code reducing server requests to a very minimal amount. These performance improvements mean a much faster site for you without any compromise on accuracy !
Invoice for SA
Invoices have been requested for long now especially by our European customers. It is mandatory to give invoices in Europe & SocialAds has now stepped up to offer VAT invoicing. We hope this will please our customers & will save them a lot of manual work.
Basic Tax handling in SA
Till now it was not possible to charge any taxes to your customers in SocialAds. We have introduced basic taxation support with a plugin. With this you can now charge a standard tax on all SocialAds transactions.
Responsive ads
With more & more people accessing the Web on Mobile, it's become imperative that Ads also adopt to this changing scenario & be more visible on mobile platforms. The first step we are taking in that direction isintroduction of Responsive Ads. Ads will now dynamically adapt to your screen size making it a much better experience on smaller screens of Phones & Tablets.
Better Bootstrap Implementation
A good UI goes a big way in converting your customers to advertisers. In this version we have given special focus on making sure that our adoption of Bootstrap is more complete making for a uniform and pleasing experience throughout all the screens.
Improved Ajaxed Checkout
One of the advantages of being the developers behind many e commerce products, is that we are continuously & iteratively improving our 'E commerce framework' so to say which includes lots of payment plugins & an awesome checkout process. The advantage is that improvements in one product benefit the others as well.
The current version introduces a new stepped Ajax checkout that is sure to blow you away ! In case you happen to click somewhere else, state saving makes sure you don't have to fill the forms again. Plus automated data pre filling from CB, JomSocial & EasySocial means that users don't have to fill in long forms at all !
Improved Ad Creation Wizard Interface
The Ad creation wizard has been the USP of SocialAds for a while now & deserved a major facelift. The Ad creation process plays a major role in converting advertisers to pay for the Ad. This release has done lots of cosmetic & usability improvements in the wizard which i am sure you will love !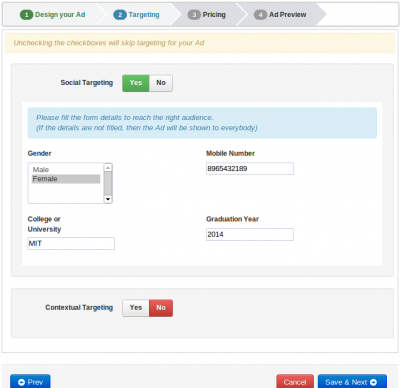 ACL support
Another feature that you have been asking for a while now, SocialAds 3.0 brings ACL support in both frontend & backend to make it easier for you to restrict access to specific areas. It is now also possible to set up a 'Advertisers Group' with specific access for creating & managing ads & restricting normal registered users.
Improved Notification Emails
We have introduced some new & bettered a lot of the email notifications sent out by SocialAds in this release. The content is more clear & accurate to save you time from editing emails.
Bug Fixes in Socialads 3.0:
Issue regarding with the filter/Search of date
Issue regarding enable the advertise on site only
To check the maximum chars For title and description in manage zones
Check the Dimension of images in The manage zones
Issue related to the Edit ads
SQL Error in dashboard view (Back-end)
Check for the Pricing zone information in manage zones.
Issue regarding backend ad order search
Promote plugs populating ad fields even if there ae no groups/events
Ads per click exceeding their limit
The Sort in manage ads at backend not working
Convert JRequest::get into getApplication()->input
DO NOT allow any other characters other than alpha in settings refer ticket #5066
Update ad was not working for alternate ad.
Layout not saved on edit ad
Date range for pre fill value while edit adnot working.
Zero amount is calculated when editing the ad on build ad view (see screenshot)
Alert Error in call ajaxUpload on create Ad view
Uncaught TypeError: Object [object Object] has no method 'collapse' with jomsocial toolbar
Duplicate ads seen for modules of same zone
Billing info pop up redirecting to edit ad view.
Ad not clickable when integrated with jlike.
Notice on module if ads fetched are present in static vari
100% coupon if applied to any AD the credits column is set to 0.
Following JS errors on techjoomla demos site
Config "Show registration form to guest users" not saving properly
Socialads sh404 plugin redirecting all internal urls to home page