Hello Early Adopters!
We missed out on making proper announcements for the Beta 2 and Beta 3 releases which might mean a lot of you will not have had a chance to test those yet. However starting with this release, we'll make sure you get updated on a weekly basis. We encourage you to test the releases and contribute on the Exclusive Early Adopter forum for Shika and tell us your feedback. Thank you once again for your support.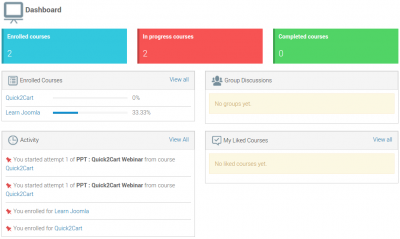 If you are not a Shika Early Adopter yet, hurry up and sign up ! The awesome 42% discount is not going to be there for ever. Buy it today!!
P.S. A Quick reminder about tomorrow's webinar about Shika with our awesome partners CloudAccess . We will be going completely hands on with Shika here.. So it will be an introduction cum training. Click here to know more.
Architectural Clean up
This is one of the major changes in Shika which has some long term impacts and ensures that we make the system flexible enough to accommodate different lesson formats. On the highest level, Shika will now support Video, Document, SCORM, HTML, HTML5 Zip, TinCan and Live type courses. Under this with the new architecture you can have different plugins..
We have refactored all code around the creation and display of lesson types as plugins to support this.
For instance with the new API, we will make 2 plugins available JW player that supports uploaded videos as well as youtube and another plugin for Vimeo. The plugin api allows you to add support for other players and formats as well!
Vimeo plugin Support for Video lesson format
This version introduces support for Vimeo which provides some great and super cheap private video hosting which is perfect for hosting learning videos. Thanks for your input which made us add this before the first stable release.
Audio learning support
When you can support video, why not audio as well ? Well here you go ! The JW Player plugin will also allow you to upload audio lessons!
Revamped Backend Dashboard
Backend Dashboard has got a complete makeover. In addition to view details option there are many changes in the charts and the graphs shown.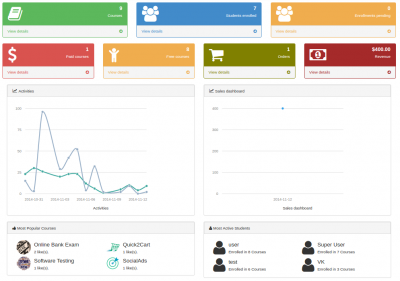 Show all activities done by a user on the users Learning Dashboard
Every user has a learning dashboard which gives a quick view of the learning activities, enrolled courses and course progress etc. Now with this update users will be able to see the all the activities done by the user on the dashboard.
Course Assignment
Now we offer the ability to let the site admin 'Assign' a course to one or more students from the frontend course landing page. Assigned courses are shown on the student's learning dashboard.
Revamped Quiz UI
We have revamped the Quiz UI to make it more user friendly and attractive.
Like/Dislike Lessons
We now introduce to express your like or dislike against lessons as well in addition to courses. You might love one lesson in a course and completely hate the other!
Lesson Notes
When you are sitting in a classroom, you tend to quickly jot down interesting points and notes. Our notes feature lets you do that right on the screen without disturbing your viewing of the lesson.
Lesson Comments
Comments on lessons can be used to express your opinions or also do mini discussions about the lesson with your fellow students.

Group discussions for Students
If you are using EasySocial or JomSocial with Shika, you have the option to have a dedicated group for students of a course. The group serves as a great way for the students to interact with each other and share.
Organise your Lessons in Lists
We offer you a nifty way to organise your lessons by letting you add them to your own private lists.
EasySocial Badge Support
Rewarding students for their achievements and giving them something to show off to their peers is a great way to encourage learning. EasySocial Badge supports lets you recognize your students achievements by awarding them a badge when they complete a course.
Complete Change Log
#33901: Support multiple types for video lesson formats
#33746: Vimeo plugin support for Video lessons
#33751: Audio learning support
#33561: Revamped Backend dashboard
#33685: Allow admins to Assign user to a course on the frontend
#33748: Show all activities done by a user on this learning dashboard
#33749: Question bank view for Admin
#33753: Revamped Quiz UI
#33766: Show like / Dislike button on lesson landing page
#34008: Allow user to add note against lesson
#34009: Allow user to add comment against lesson
#34011: Allow user to add lesson to his private list
#33750: Show categories list and tags below course title on the course landing page
#34010: Show Group discussions on Course landing page
#33910: Show "Taught By" for Course
#33769: Box api toolbar ( shown on PPT and Document lessons) responsiveness fix
#33864: EasySocial badges integration for courses
Bugs Fixed :
#33863: Pin layout, Fixed height pin layout, List layout support for "All courses" menu
#33687: Ordering not getting save for lesson on drag drop
#33752: vimeo player not working issue
#33897: update passed/ failed for the quiz in lesson track
#34012: HTML tags disappears when tried to save course description
#34013: Cannot Launch lesson on FIrefox
#34014: Search plugin doesn't work. After enabling it, it shows blank page
#33955: Not able to focus on any input box while creating lesson on Firefox
#33954: Not able to save radio type fields while creating lesson