As promised, we are happy to announce the release of Shika v.1.0 Beta 15. Besides a ton of fixes, we have managed to merge some pull requests on projects that our services teams have been working on to get some new features in as well. So let's look at what's in there...
Whats new in Shika Beta 15 ?
Ability to delete questions
This was a missing feature. Now you can delete questions from the Question Bank. However if the question is associated to any of the quizzes it will not be deleted and an error message will be displayed.
Associated Data clean up when a course or lesson is deleted
We had missed cleaning up associated data when a lesson or course was deleted due to which a lot of orphans were being created. This is now fixed. Going forward when lesson reuse is introduced and you can reuse lessons in multiple courses, we will not delete lesson data/ tracking data if a course is deleted. However till that comes we are ensuring that data is cleaned up.
Introducing Support for LTI Providers (External Tool)
LTI or learning tools interoperability allows for adding content from external learning content providers who support the LTI standard into the LMS. This is introduced as a new Lesson type called 'External Tool'. Please note that this feature is still in Alpha and has only been tested with a limited amount of LTI Providers.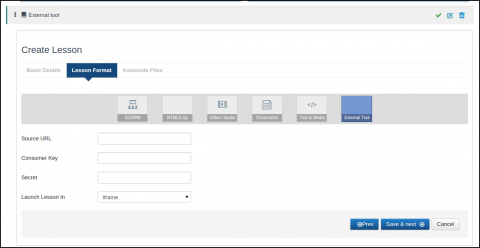 Multi purposeAjaxed reporting tool
The standalone reports we had released earlier have been rolled back now and have been replaced with a much better reporting tool that gives you much more control on what you want to see in reports, set filters and also choose what columns to show and hide. You can also save your own custom reports.


Backend review for answers sheets of quizzes
We now introduce the ability in the backend to review answer sheets of quizzes.
Date filters for Activities and Sales Graphs
The backend dashboard for sales as well as the activities report now introduces date filters to let you customise the output.
Email configuration
Now you can choose which actions in the system should trigger and email.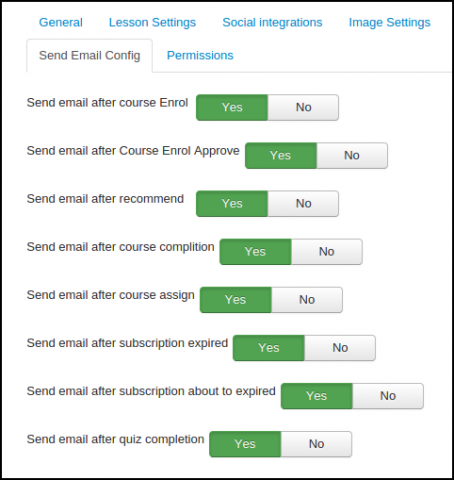 ACL for Backend views
Backend views were missing the ability set Access on each individual view. You can now setup more customised ACL and grant access on a more granular level.
Lesson Formats revamped and made available as plugins
Now each lesson format is available as a plugin. This makes it easy for us as well as 3PDs to extend the platform and introduce new lesson formats. Plus if you dont want to use any of the formats, you can simply disable the plugin.
OR