We are happy to announce the release of Shika 1.3.31 which brings a lot of new features for you. The Google Data Studio integration for TJ Reports enables the site administrator to create great looking, interactive reports. Besides this, the site administrator can add plan names for subscription plans for paid courses. We have also introduced auto-enrolment for free courses to improve the usability of the course launching experience
Make sure you read the release notes before you upgrade. 
Buy Shika Now!         View Shika Demo!
Features
Google Data Studio integration for TJ Reports
With Shika 1.3.31, we have integrated our infrastructure extension TJ Reports with Google Data Studio to create stunning interactive reports using the data collected by Google Data studio from various sources. Refer our blog for more information.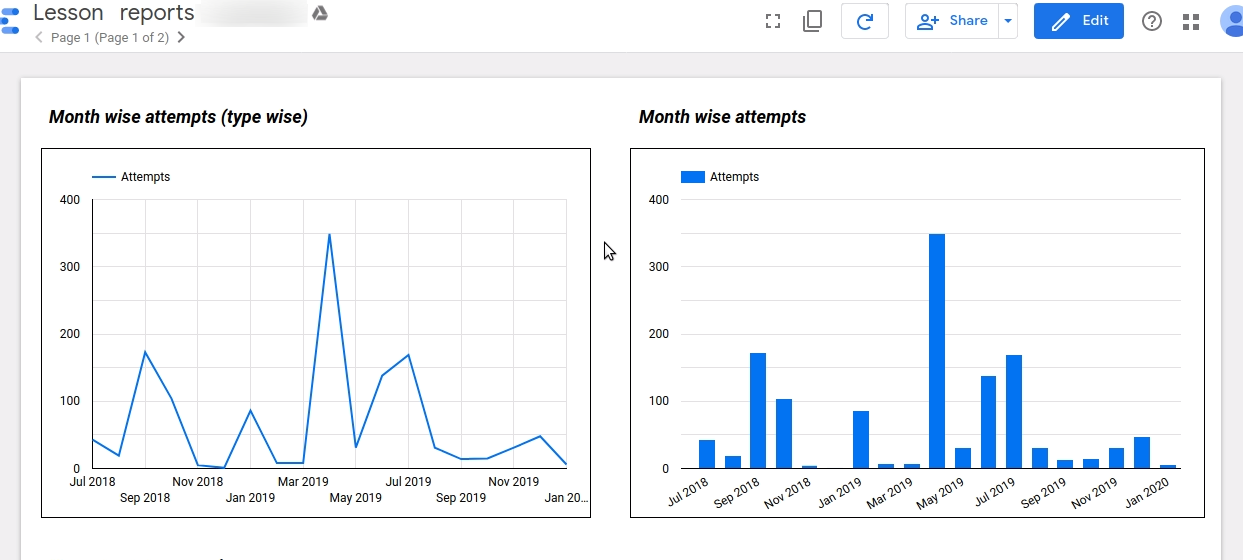 Auto Enrollment to free courses on launching any free course lesson
Shika 1.3.31 introduces a configuration that enables users to auto-enrol for free courses. This removes the need to click on the enrolment button to start the course.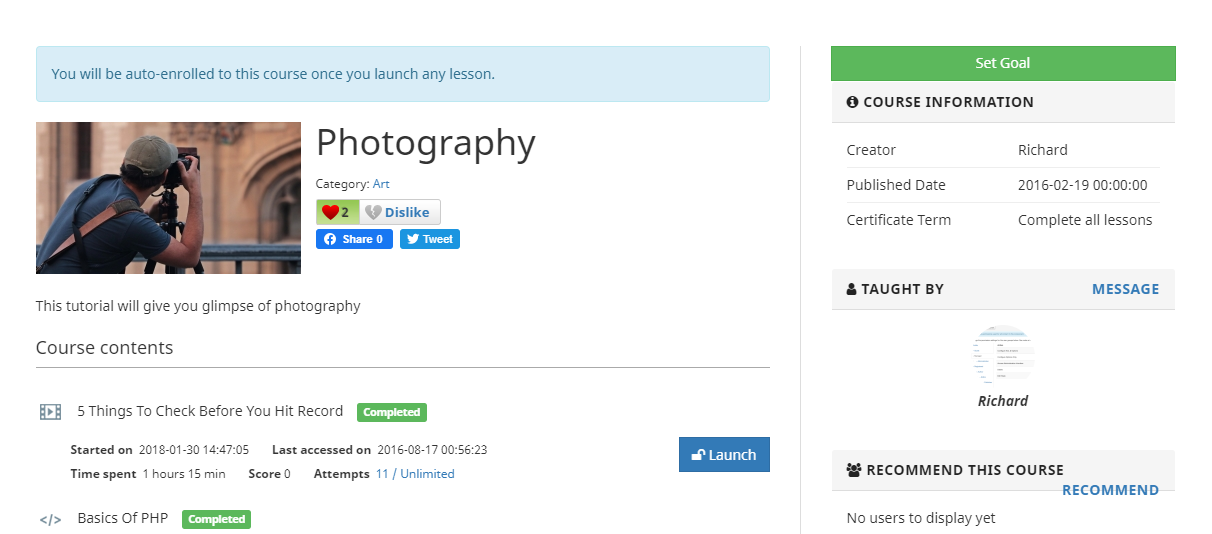 Added attempt related triggers in action log plugin
In this release we have enhanced the existing action log plugin and added attempt related triggers to the plugin. 
New plan names for subscription plans
In case of paid courses, site administrator can now add plan names for the different subscription plans for different duration from the backend. 

Changelog
Features(4):
#159036 Google Data Studio Connectors
#157766 Auto Enrolment to course on launch the lesson in the context of the free course
#155067 Added attempt related triggers in action log plugin
#154038 Ability to Add a "Plan Name" to a Payment Plan
+Improvements(1):
#152604 Refactor the Quiz component com_tmt
-Bugs(7):
#159051 Unknown column '*' in 'field list' while submitting the quiz
#158176 Frontend>> Course TOC>>Certificate enabled >>Two certificate buttons are showing on the screen after course completion
#158113 Frontend >>Course TOC >> Lesson status Language Constant missing
#157356 Course module ordering and lesson ordering not reflecting on TOC and lesson playlist
#157346 Backend> Course report >> Trashed courses "Status" and "Featured" are displaying in numbers instead of text
#156683 Frontend >> Courses >> When admin approval is ON, the relevant message is not getting displayed to the user
#144212 Missing Access Control on Coupons