J!MailAlerts 2.3 with Joomla 1.6 Support is here !
We are happy to announce the release of J!MailAlerts version 2.3 with Joomla 1.6 support ! The extension is free to download for all & so are all the free Plugins. For the JomSocial plugin pack & other commercial plugins, you need a support subscription. We presented J!MailAlerts at the Joomla Day in KL, Malaysia. Check out the slides here .
Quick Links Free Download | Free Plugins | Commercial plugins | JomSocial plugin pack for JMA | Paid Support subscription
SocialAds 2.5.1 released

This is mainly a bug fix release that releases some small issues withe the 2.5 release that have been reported to date. We recommend that you update to this release ASAP. All Subscribers can download the latest release from the 'My Subscriptions' . For a full change log click here . Not making money from your Joomla site yet ? Get SocialAds today !
Techjoomla joins the Joomlapolis Party !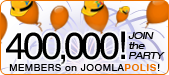 Get an awesome 30% off on our Community Builder Power pack & SocialAds as Techjoomla joins the Joomlapolis team in celebrating 400K users on their website ! To take advantage of these awesome deals, logon to http:///joomlapolis.com & look for the coupon booklet on your CB profile there !

Reminder about the awesome offer from Stackideas !


As we informed you earlier this month, we have partnered up with StackIdeas to give you a chance to get a 6 month subscription of their awesome blogging component for Joomla EasyBlog (worth 45$) for free! .

On every purchase from 18th June to the 30th of June, you will get EasyBlog for free ! Note that you will be given access to EasyBlog on the first of July. So head over to Techjoomla.com today to get those extensions you wanted ! If you have J!MailAlerts, you can send Blog Update Digests using the EasyBlog plugin for JMAas well !

Last 3 days to get 20% off on all extensions

Only 3 days left to get 20% off all our extensions with the code : LOVEMONSOONS20. Rush now to get them ! Remember to get even better deals by purchasing the CB Power Pack or JS Power Pack using this code.