Hello All!
Extremely sorry for the long silence & recent delays in releases. Actually, we have been sitting on this release for almost 2 weeks now as we wanted to launch it on the new site. We have been working hard on this release for almost 2 months now & extensive work has gone into making it feature rich as well as rock stable.
Native Events Management, Extensive Field Manager, Attendee Field collection, Paypal Adaptive payments, Microdata & OG Tag support, a fresh new checkout process ... The list of features is long in this release. I am sure you are as excited as we are about this!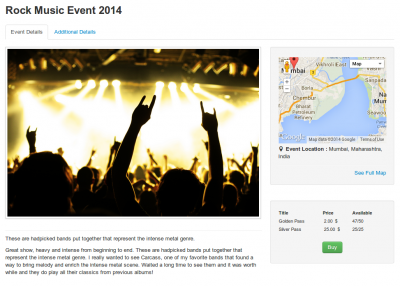 To See the full details of this release, read on for the complete blog detailing each feature. The release is available immediately for all active subscribers. Not using JTicketing yet or Subscription expired?
Read on to the full details of the release 
 Native Event Management
Till now you could use Jticketing only if your site had JomSocial Events or JEvents. From this release, this is not a requirement. You can use the native Event manager which has awesome pin view for Events as well as a cool Event details view which will help you present your events in the best possible way. You can also use categories to manage your native JTicketing Events better.
However, if you are using JTicketing with JEvents or JomSocial, rest assured! We plan to continue to offer awesome tight integrations with all the awesome features to all JTicketing customers no matter what integration you are using.
MicroData Rich Snippets & Open Graph Tag support for Native Events
Microdata plays a major role in SEO today & helps set the context of the content on the page. This gets the guesswork out of the way for search engines helping them pick the correct data from your web pages & show it in the best possible way. The native event details view for JTicketing supports Rich microdata snippets.
What microdata is to search engines, OG tags are to Social Networks. OG tags make sure that the presentation of your content is perfect when shared on Social networks.
Native Sharing on Google Plus, Facebook, Twitter & lot of additional options with Add this
Making it easy to share content with your visitors is supercritical in making your content go viral. We take the pain out of this by offering out of the box native sharing integrations with the big 3 Social Networks - Facebook, Google + & Twitter. If this is not enough, you can switch on the Add This integration & get lots of additional sharing options!

Field Management for Native Events
Sometimes the default fields provided to describe events might not be enough. You might just want that extra field in events which is specific to your vertical. The Field manager gives admins the flexibility to define your events better ! Choose from an array of field types & even group the fields for better presentation.
 Collection of Information from Attendees using Attendee Fields
This is one feature you have been requesting for a long time & we are sorry we have been so late delivering it. But now that it's here, I am sure you are going to love it!
In order to make your job easier, we have created two sets of fields that you can accept from attendees when they buy a ticket. One set is defined by the Admin as a default by the site admin for all Events on the site. In addition, Event owners can define their own fields for collecting additional information from attendees. So if you have a site that does a lot of Food related events, then the admin could make a Food Preference Menu with options like Vegan/Vegetarian/ Non-Vegetarian etc so that every event owner does not need to create them.


Awesome Fast & Friendly Checkout with Invoicing
We have done huge changes to the JTicketing checkout process to make it faster & more intuitive. The checkout is completely ajax & saves state in case you happen to click somewhere else saving you from filling the information again. Plus automated data pre-filling from CB, JomSocial & EasySocial means that users don't have to fill in long forms at all!


Paypal Adaptive Payments Integration for hands-free Payouts to Event owners
If you are using JTicketing in Multi-Vendor mode, making manual payouts to event owners for the tickets they sell can be a pain. We are introducing Paypal Adaptive payments support in JTicketing in this version which will make payouts completely painless.
With Adaptive payments, payments are split instantly into the site fee & vendor payment without you having to bother about manual payouts. For instance, let's say the site charges a 10% fee & a user buys tickets worth 200$, then the Fee of 20$ is instantly delivered to the Site Paypal address while the 180$ is delivered to the Event owner. The Paypal fees can be configured to be cut from either portion.

Fully Responsive
JTicketing 1.5 has got a fully responsive frontend. Which means your users are using a Smartphone, a tablet, a laptop or a desktop all the views will be automatically resized to fit perfectly.
Google Maps Integration
With the native event manager, you can now show the event location on a Google map & get automatic suggestions for addresses as you type it in. The Maps integration means that events are much easier to locate & get to for your attendees.
Better Reports & CSV Exports for event owners as well as Admins
Reporting is something admins, as well as event owners, want to be on the top of. Detailed reporting, CSV exports & beautiful admin dashboards will make sure your admins drool over your events system!
Updated APIs for compatibility with Android & IOS apps for

JTicketing

.
The 1.5 release has also updated our REST APIs which are used by the IOS & Android applications for JTicketing. So make sure you have the latest version of the apps as well as JTicketing on your site to make sure everything works just fine!
Joomla 3.3 Compatibility
Jticketing is fully compatible with the latest Joomla 3.3. So go ahead & hit that upgrade button! Wondering what Joomla 3.3 has to offer? Read our Blog about it here.
Geeky Additions
Are you a geek? Then you are sure to love these new improvements & additions that will allow you to push JTicketing to its limits & open up a plethora of integration possibilities!
Bettered MVC Implementation

Uses in

JForm

for most forms